FUNNY STUFF
SAVAGE CHICKENS
The artwork is, well, um, chicken scratch, but these are some pretty funny GIF cartoons. You may find yourself laughing your tail-feathers off. Try some of our fav's: Automation, Klingon, Special Report, Law Of Motion #5, or see the Savage Chickens home page.
FORMAT: GIF

FAKE LUNESTA COMMERCIAL
A very funny short clip that parodies Lunesta commericals—you know, the ones with the calming little butterfly. Featuring Will Farrell. From Saturday Night Live.
FORMAT: Google Video
No longer available.

FUNNY ANIMALS FOOFING
We don't normally go for scatological humor here at GP, but this short farting-dinosaur animation is pretty funny.
FORMAT: YouTube
Get it here
ADVERTISEMENT
ARTICLE LINKS -- SOME GOOD NEWS FOR A CHANGE
On Global Warming . . .
The new IPCC reports on global climate change aren't very encouraging, but there is some good news. The German government has committed to a 21% reduction in greenhouse gas emissions during 2008-2012. (And we note that Germany is already a world leader in low-polluting wind and solar power.) Meanwhile, here in the US, the Supreme Court said, "Tut-tut, EPA—greenhouse gases ARE air pollutants that you need to regulate under the Clean Air Act." Sorry, George! Even The Governator is taking aim at the Footdragger in Chief.

On Chemicals . . .
Europe has passed tough new rules that force chemical manufacturers to PROVE that their products are safe (rather that assuming they're OK and leaving it to governments, NGOs, and guinea-pig citizens to prove that they're not). Here in the Land of Crazier Living Through Chemistry, we give a "bravo" to California for adopting new standards to slash the amount of cancer-causing formaldehyde allowed in your wood products. More broadly, the US has finally taken a first, if half-hearted, step towards stronger, sanity-based safety regulations for chemical plants, where a ka-boom would be very ka-bad.

On World Development and Preservation . . .
The World Bank successfully eradicated its infestation of yellow-backed Wolfowitz, a notably pestiferous species of chicken-hawk. They also came up with a $250 million plan to save forests in wildlife hot spots like Papua New Guinea, Costa Rica, Indonesia, and Brazil. On the home front, Florida just doubled-up on its efforts to clean up the species-rich Everglades.
| | | |
| --- | --- | --- |
| | HEALTH/ENVIRONMENT ARTICLES | |
| | | |
| --- | --- | --- |
| | MORE MULTIMEDIA | |
WHY EAT LOCAL, YOKEL?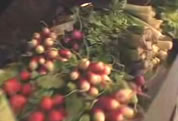 LOCAL FOODS WINNING PROPONENTS

— A good two-minute video laying out the benefits of local foods to consumers and communities. From Worldwatch Institute... Go there

Related GP cartoon:
Food Joke/Survey Cartoon

Related GP articles:
Local Food | CSAs

Public Service Announcement