MOVIE REVIEW OF ...


Escape From Suburbia


Beyond the American Dream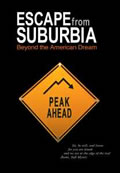 This sequel to The End of Suburbia extends the reach of the first film. Escape From Suburbia spends a bit of time updating us on the general issue of Peak Oil and explaining its potential to impact our way of life, but the film focuses more on actions real people have taken in their own lives to prepare themselves and their communities. It emphasizes the questions that each of us should be asking ourselves: "When the poop hits the propeller, will I be able to weather the storm in my current locale, in my current house, doing what I'm doing now? If not, what do I do about it?"
For those who are already actively following the unfolding Peak Oil saga on the real-world stage and are engaged in some level of "mitigation activities," Escape From Suburbia will not yield any particular revelations. But it will give comfort as it explores the fact that there are lots of other people out there thinking about this stuff and trying to do something about it.
For those still at the beginning of the Peak Oil learning curve, it might be better to start with The End of Suburbia, which provides an excellent punch in the stomach for anyone inclined to think that "things are just fine." Still, Escape From Suburbia has enough on the background story that newbies will certainly "get it."
Overall, Escape From Suburbia accomplishes its mission of showing that there ARE things we can do, that it's not hopeless—even if the challenge seems overwhelming as we start down the road to solutions.
| | |
| --- | --- |
| Check out Escape From Suburbia at Amazon.com | Or search Amazon.com for more... |
Escape From Suburbia Tagline:
Sit, be still, and listen, for you are drunk and we are at the edge of the roof. -- Rumi, 13th Century
FREE AUDIO CLIPS

Grinning Planet also has audio . . .
Radio EcoShock

The Economic Impacts of Peak Oil — 05 Nov 2013 — Ecological economist Christian Kerschner discusses a recent joint American-European university study of peak oil. Topics include technology improvements vs. net energy; economic impacts; which industries are already in trouble with today's high oil prices; why specialty petroleum products have different price elasticity than energy products. .
Go to page | Download/Listen 14:11

C-Realm Podcast

With Apocalyptic Clarity — 30 Oct 2013 — Robert Jensen explains what he means when he says that it's time to get apocalyptic. We need to engage with those who dismiss the problem of a resource-scarcity-driven apocalypse because they think a God-driven apocalypse is likely in our future. The conversation also delves into the need to sharpen our analysis in conversation with people who already share a good many of our values and goals, thus helping them sharpen their own arguments, creating a daisy chain of better rhetoric.
Go to page | Download/Listen 59:08

Fairewinds Energy Education

A Road Less Taken—Energy Choices for the Future — 24 Oct 2013 — Arnie Gundersen reviews the general dangers of nuclear power as well as the opportunities for greatly ramping up use of alternative energy technologies.
Watch | Download/Listen 43:00

(GP comment: Pretty good, though he shouldn't buy into silly ideas like our electric cars one day being a significant source of grid storage capacity.)

MORE

Get more audio clips on peak oil, resilience, energy (and many more topics) in Grinning Planet's biweekly downloadable audio news feed.
ADVERTISEMENT
Hey, we don't pick
the Google ads! – GP
CLICKS ON OUR ADS AND PURCHASES VIA OUR AMAZON LINKS HELP SUPPORT THIS FREE SITE... THANKS!