| | |
| --- | --- |
| | |

ORIGINAL GRINNING PLANET
ENVIRONMENTAL CARTOONS/JOKES

A CLIMATOLOGIST AND A CLIMATE CHANGE DENIER WALK INTO A BAR....


Climate Change Denier Joke

SIGNS THAT THE GOVERNMENT'S ATTACK ON SCIENTIFIC INTEGRITY IS ACCELERATING


Scientific Integrity Cartoon

... and More!

ZOMBIE NEWS CLIPS FROM THE TOMB OF THE UNREAL, VOL. 7


Funny Environmental News

"AND HOW 'BOUT THE GLOBAL WARMING FROM THAT RAY GUN, PAL?"


Global Warming Comic Strip

IS OUR WATER CLEAN ENOUGH?


Water Cartoon

THE DIFFERENCES BETWEEN A GOOD RECYCLER AND A NOT-SO-GOOD RECYCLER


Recycling Cartoon
THE ECO-CARTOON RUSTLER WAS STRUNG UP WITH FUNNY GREEN LINES


Eco Cartoons from Rustle The Leaf

HOW DO OIL COMPANIES USUALLY DEAL WITH OIL SPILLS?
THE ARTIST'S TASTY CARTOONS
HAD BITE


Environment Cartoons by the Half-Dozen—from Chris Madden

WHAT PEOPLE WILL LIKELY DO ON EARTH DAY
A FEW DEDICATED PEOPLE'S STRATEGIES FOR HELPING SAVE THE ENVIRONMENT
"EVIDENCE" FROM A FEW GLOBAL WARMING SKEPTICS
WHERE AIR POLLUTANTS COME FROM, ACCORDING TO INDUSTRY
BUMPER STICKERS RECENTLY SEEN ON H2 HUMMERS
THEORIES ON WHY THERE ARE NO WILD COWS

Related Environmental Humor & Pseudo-Environmental Cartoons


---

SQUIRRELY APPROACHES TO BEING PREPARED


Resilience and Collapse Cartoons

JACKING INTO THE BRAVE NEW WORLD


Future Cartoons

ALL HAIL THE C-E-OLIGARCHY


Corporate Cartoons

DEEP-SEA CREATURES' BIGGEST PROBLEMS


Fish Joke/Cartoon

WHICH "PHRASES FROM THE FUTURE" CAUSE YOU THE MOST DISTRESS?


Future Cartoon

OPTIONS TO IMPROVE THE VIABILITY OF THE ELECTRIC CAR


Electric Car Cartoon

HEALTH BENEFITS CHART FOR WHITE-MEAT CHICKEN


Chicken Cartoon

DOES THE LOCH NESS MONSTER REALLY EXIST?


Loch Ness Monster Joke

BAD IDEAS FOR NEW RIVER NAMES


River Joke/Cartoon
Bud Tuborg on beer bottle and can waste
Z-News, V. 5 –
Water Witch's Brew
Climate Change Cartoon
JOKE: Audience Complaints About the Movie "The Day After Tomorrow"
Funny Environmental Quotes

Grinning Planet other pages:
FREE AUDIO CLIPS

About.com's environmental humor page
Cagle.com - Global Warming Political Cartoons
Cartoonist Group - Environmental Cartoons
EduGreen - Environmental Cartoons
Greenberg, Steve - Environmental Cartoons
Klossner, John - Environmental Cartoons
Madden, Chris - Environmental Cartoons
Off the Mark environment cartoons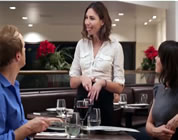 IS IT FACTORY-FARMED CHICKEN?


In this funny video from Food and Water Watch, two patrons are super-excited about the waitress' explanations regarding the menu's factory-farmed chicken and how it was raised. Watch funny industrial chicken farming video.

(1:47)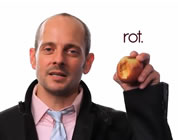 MONSANTO — PICKING UP GOD'S SLACK


This funny bit from Happy Little Guillotine Studios makes mince meat out of Monsanto's maniacal drive to dominate the global food system with their GMO products, no matter what the cost. Watch funny Monsanto video.

(2:33)




Get alerts to new
environmental animations
free via email
Meatrix, The (series)
Triumph the Insult Comic Dog on Global Warming
Greenpeace environmental cartoons/animations (most require Flash):
Mark Fiore - Environmental Cartoons/Animations (Flash)
RELATED PAGES ON GRINNING PLANET:
-- Environmental Multimedia (animations, video, audio, more)
-- Non-eco funny animation-videos
The Onion - Funny Environmental Videos (and Related Topics)
Grinning Planet has no control over the content on other sites. We try to choose sites to link to that have content appropriate for GP readers, but as with any subjective evaluation, your mileage may vary!
Regular (non-eco) GP cartoons + environmental articles . . .
ADVERTISEMENT