MOVIE REVIEW FOR ...


A Farm for the Future

The premise of this 48-minute movie, which was originally presented on BBC's Natural World series, is that oil will soon peak, and that this will have enormous implications for agriculture. Exploring this linkage is not new among peak oil films, but A Farm For the Future moves quickly past the framing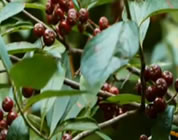 of the problem to spend most of its time exploring how the fuel/farming/food issue can be solved.
The film presents the connection between oil and food in a way that leaves little doubt that today's farms, even organic ones and small ones, are utterly dependent on oil and, to a lesser extent, other fossil fuels. There's a wonderful explanation using a simple deli sandwich of just how fuel-dependent our food is. But this is not a scare-us-to-death disaster film—it shows that "post-oil farming" can be done.
There will be several keys to success in this transition, and first among them is to begin seeing nature as a force to be enlisted, not a horrendous pest army that must be dealt with chemically. Various permaculture techniques, including fully pastured cows and "food forests," shun chemicals and instead use the power of biodiversity to increase yields and reduce labor and fuel use.
Many peak oil films of recent years alternate between video clip art and talking-head interview shots, with little original footage beyond the interview segments. No matter how well the editing-room technicians do their magic, the approach has resulted in a certain sameness to the look of most peak oil films. Not so here. A Farm For the Future has done the hard work of using mostly its own footage. The many shots that show the relationship between nature and sustainable farming give the film a very likeable, cinematic look, making it feel as much like a David Attenborough special as a farming-and-energy documentary.
A Farm For the Future correctly points out that industrial agriculture is a necrotic system—the soil is dead, and without constant inputs of chemical fertilizers, crops would not grow successfully. As part of a move to sustainable farming techniques, soil can be reconditioned and nutrient cycles can be reestablished to once again create a living system with naturally fertility.
But that won't happen by accident or inertia—we must start strongly encouraging this transition. We highly recommend this impressive little film as a good starting point.
Watch the film at this page: sustainable farming video
FREE AUDIO CLIPS

Grinning Planet also has audio . . .
CATEGORY: GARDENING — 08.AUG.2014

You Bet Your Garden

Bat Houses, Lawn Chemical Breakdown, Garden on Wheels, Gooseberries, more — Master gardener Mike McGrath answers garden questions, such as... How do I design a raised bed to keep grasses from growing into the new soil? What is the best design for a bat house? When is an area too wet for a fruit tree? How long does it take lawn chemicals to completely break down after applications stop? He also interviews the inventor of the "Garden on Wheels," a portable raised-bed design that incorporates a frost cover and water recycling. In the question of the week, McGrath covers gooseberries (which taste a bit like grapes), including sun/shade requirements, climate, and disease-resistant varieties.
Go to page | Download/listen 52:58

GP comment: The Garden on Wheels has some nice design ideas that are widely applicable, but this particular item will likely be too limited and pricey for average gardeners who are not limited by physical challenges.

Original Show Pub Date: 19.Jul.2014

CATEGORY: AGRICULTURE — 30.JUL.2014

Food Chain Radio

Hope in Heritage — Bob Cantisano, an expert on heritage varieties of fruit trees and vines, explains why the characteristics of the old varieties—members of which can be productive for more than 100 years—are superior to most of the current hybridized and genetically engineered varieties. Topics include Felix Gillette's mountain orchard, the plan for a mother orchard, strategies for preservation of heritage varieties, integrating superior characteristics into new varieties.
Go to page | Download/listen 42:45

GP comment: Fun story about how Cantisano discovered the lost orchard of Felix Gillette, one of the most important developers of heritage varieties in the history of agriculture.

Original Show Pub Date: 05.Jul.2014

CATEGORY: GARDENING — 19.JUL.2014

You Bet Your Garden

Helpful Garden Pests, Ants, Carpenter Bees, Lawn-to-Garden Woes, Potatoes, Wild Violets, more — Master gardener Mike McGrath's topics this time include ... why a few pest insects eating your plants may be better than none at all; what to do about ants in garden pots and around/in your house; how to keep carpenter bees from making swiss cheese out of your wood fence; problems in a garden space from recently converted lawn; something went wrong with the potatoes—or maybe not; wild violets—friend to some, foe to others.
Go to page | Download/listen 52:59

GP comment: A few violets here and there are nice, but they can get out of control.

Original Show Pub Date: 12.Jul.2014

MORE

Get more audio clips on sustainable agriculture and gardening (and many more topics) in Grinning Planet's biweekly downloadable audio news feed.
ADVERTISEMENT
Hey, we don't pick
the Google ads! – GP
CLICKS ON OUR ADS AND PURCHASES VIA OUR AMAZON LINKS HELP SUPPORT THIS FREE SITE... THANKS!