MOVIE REVIEW FOR ...


A Farm for the Future

The premise of this 48-minute movie, which was originally presented on BBC's Natural World series, is that oil will soon peak, and that this will have enormous implications for agriculture. Exploring this linkage is not new among peak oil films, but A Farm For the Future moves quickly past the framing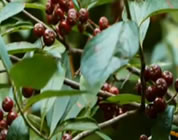 of the problem to spend most of its time exploring how the fuel/farming/food issue can be solved.
The film presents the connection between oil and food in a way that leaves little doubt that today's farms, even organic ones and small ones, are utterly dependent on oil and, to a lesser extent, other fossil fuels. There's a wonderful explanation using a simple deli sandwich of just how fuel-dependent our food is. But this is not a scare-us-to-death disaster film—it shows that "post-oil farming" can be done.
There will be several keys to success in this transition, and first among them is to begin seeing nature as a force to be enlisted, not a horrendous pest army that must be dealt with chemically. Various permaculture techniques, including fully pastured cows and "food forests," shun chemicals and instead use the power of biodiversity to increase yields and reduce labor and fuel use.
Many peak oil films of recent years alternate between video clip art and talking-head interview shots, with little original footage beyond the interview segments. No matter how well the editing-room technicians do their magic, the approach has resulted in a certain sameness to the look of most peak oil films. Not so here. A Farm For the Future has done the hard work of using mostly its own footage. The many shots that show the relationship between nature and sustainable farming give the film a very likeable, cinematic look, making it feel as much like a David Attenborough special as a farming-and-energy documentary.
A Farm For the Future correctly points out that industrial agriculture is a necrotic system—the soil is dead, and without constant inputs of chemical fertilizers, crops would not grow successfully. As part of a move to sustainable farming techniques, soil can be reconditioned and nutrient cycles can be reestablished to once again create a living system with naturally fertility.
But that won't happen by accident or inertia—we must start strongly encouraging this transition. We highly recommend this impressive little film as a good starting point.
Watch the film at this page: sustainable farming video
FREE AUDIO CLIPS

Grinning Planet also has audio . . .
CATEGORY: AGRICULTURE — 12.APR.2014

Peak Prosperity

A Model for Profitable Micro-Farming — We are all awakening to the realities of a future defined by declining net energy, concerns about food security, community resilience, and reliable income. Small-scale farming usually quickly surfaces as a pursuit that could help address all of these. Yet most dismiss the idea of becoming farmers themselves; mainly because of lack of prior experience, coupled with lack of capital. Enter Jean-Martin Fortier and his wife, Maude-Helene. They are a thirtysomething couple who have been farming successfully for the past decade. In fact, they've been micro-farming—their entire growing operations happen on just an acre and half of land. And they make a fine living at it.
Go to page | Download/listen 34:15

GP comment: It can be done, IF you develop the right skills, have a high level of persistence, and have access to a customer base willing to pay something other than Walmart prices.

Original Show Pub Date: 29.Mar.2014

CATEGORY: GARDENING — 03.APR.2014

Agroinnovations Podcast

The Soil Food Web and Compost Microbiology — Elaine Ingham gives listeners an overview of soil microbiology—the scope, scale, and dynamics of the soil food web. In part B, Dr. Ingham discusses the impact of natural disasters on soil microbiology, testing laboratories for soil microbes, aerobic composting techniques, and methods for managing soil microbiology using compost tea.
Go to page | Download/listen 38:48
Go to page | Download/listen 47:33

GP comment: Material was recorded in 2011 but was broadcast for the first time in 2014. Still 100% relevant.

Original Show Pub Date: 22.Jan.2014

CATEGORY: GARDENING — 23.MAR.2014

You Bet Your Garden

Local Seed Banks, Asparagus Tips, Wildflowers on City Lots, Monarch Butterflies, more ... — Master gardener Mike McGrath's tips include ... the benefits of starting a seed bank in your town; how to make that asparagus you planted last year happy; what crops might be a good idea for a few acres of ex-pasture; putting wildflowers on a bare city lot where a building was torn down; ways we can help the threatened monarch butterfly do better.
Go to page | Download/listen 52:58

GP comment: Saving seeds and swapping with neighbors is the easy way to start a seed bank. But learn a little about the how-to of seed saving before you dive in—no point in wasting time on things that won't work.

Original Show Pub Date: 15.Mar.2014

MORE

Get more audio clips on sustainable agriculture and gardening (and many more topics) in Grinning Planet's biweekly downloadable audio news feed.
ADVERTISEMENT
Hey, we don't pick
the Google ads! – GP
CLICKS ON OUR ADS AND PURCHASES VIA OUR AMAZON LINKS HELP SUPPORT THIS FREE SITE... THANKS!