MOVIE REVIEW FOR ...


A Farm for the Future

The premise of this 48-minute movie, which was originally presented on BBC's Natural World series, is that oil will soon peak, and that this will have enormous implications for agriculture. Exploring this linkage is not new among peak oil films, but A Farm For the Future moves quickly past the framing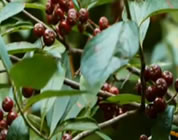 of the problem to spend most of its time exploring how the fuel/farming/food issue can be solved.
The film presents the connection between oil and food in a way that leaves little doubt that today's farms, even organic ones and small ones, are utterly dependent on oil and, to a lesser extent, other fossil fuels. There's a wonderful explanation using a simple deli sandwich of just how fuel-dependent our food is. But this is not a scare-us-to-death disaster film—it shows that "post-oil farming" can be done.
There will be several keys to success in this transition, and first among them is to begin seeing nature as a force to be enlisted, not a horrendous pest army that must be dealt with chemically. Various permaculture techniques, including fully pastured cows and "food forests," shun chemicals and instead use the power of biodiversity to increase yields and reduce labor and fuel use.
Many peak oil films of recent years alternate between video clip art and talking-head interview shots, with little original footage beyond the interview segments. No matter how well the editing-room technicians do their magic, the approach has resulted in a certain sameness to the look of most peak oil films. Not so here. A Farm For the Future has done the hard work of using mostly its own footage. The many shots that show the relationship between nature and sustainable farming give the film a very likeable, cinematic look, making it feel as much like a David Attenborough special as a farming-and-energy documentary.
A Farm For the Future correctly points out that industrial agriculture is a necrotic system—the soil is dead, and without constant inputs of chemical fertilizers, crops would not grow successfully. As part of a move to sustainable farming techniques, soil can be reconditioned and nutrient cycles can be reestablished to once again create a living system with naturally fertility.
But that won't happen by accident or inertia—we must start strongly encouraging this transition. We highly recommend this impressive little film as a good starting point.
Watch the film at this page: sustainable farming video
FREE AUDIO CLIPS

Grinning Planet also has audio . . .
CATEGORY: FOOD, AGRICULTURE — 07.JUL.2014

The Lifeboat Hour

Reclaiming the Future of Food — Michael Brownlee, founder of Local Food Shift in Colorado, explains what we're not being told about our food. Topics include the unholy alliance between Big Food, Big Ag, and Big Pharma; the systematic suppression of local food options; water issues; radical climate shift and agricultural output.
Go to page | Download/listen 56:01

GP comment: This is generally good, though I find it rather laughable that he promotes agriponics—a growing technology that is solidly in the "industrial agriculture" basket—as part of the solution to food sustainability.

Original Show Pub Date: 06.Jul.2014

CATEGORY: AGRICULTURE — 10.JUN.2014

Peak Prosperity

Toby Hemenway: Explaining Permaculture — Permaculture is a word fast gaining adoption in (and beyond) the agricultural and gardening worlds. But what exactly does it mean? One of the top experts in the permaculture field, Toby Hemenway, gives an layman's overview of the philosophy, science, and best practices of the craft. Permaculture is about understanding and appreciating how systems naturally operate, and combining those systems in intelligent ways to accomplish intended goals, sustainably.
Go to page | Download/listen 42:20

GP comment: I need to spend more time studying and implementing such methods. I've heard that "someday" there will indeed be more free time to do such things.

Original Show Pub Date: 17.May.2014

CATEGORY: FOOD, AGRICULTURE, CHEMICALS — 09.JUN.2014

Food Chain Radio

Waste, Want Not — Caroline Snyder talks about the toxic chemicals that are found in sewage sludge and the conspiracy of corporations and municipal treatment operations that hides the truth from the public and attacks anyone who dares question their practices. Snyder is professor emeritus at the Rochester Institute of Technology and founder of Citizens for Sludge-Free Land. Joining the conversation is Patty Martin, a former town mayor in California and co-founder of Safe Food and Fertilizer.
Go to page | Download/listen 42:22

GP comment: Just one more reason to eat organic—no sludge allowed on the fields.

Original Show Pub Date: 24.May.2014

MORE

Get more audio clips on sustainable agriculture and gardening (and many more topics) in Grinning Planet's biweekly downloadable audio news feed.
ADVERTISEMENT
Hey, we don't pick
the Google ads! – GP
CLICKS ON OUR ADS AND PURCHASES VIA OUR AMAZON LINKS HELP SUPPORT THIS FREE SITE... THANKS!