REVIEW OF ...


Sprawling from Grace, Driven To Madness

A lot of the topics Sprawling from Grace, Driven To Madness—peak oil, sprawl, unsustainable trends—have been covered in other peak oil films, though they are nonetheless explained very well here. The film correctly identifies flow rate, not total reserves, as the critical factor to consider when looking at where we stand with oil supplies. Sprawling from Grace also makes the observation that, among Western nations, the United States has a uniquely high level of sprawl, which will mean unique energy problems and social challenges in the coming oil-constrained future.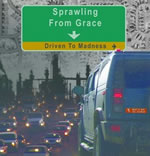 The film features a particularly good review of why alternatives will fail to arrive in time to avert a future fossil-fuels crisis, as well as an exploration of the denial psychology that afflicts most of our politicians and most of the public. James Howard Kunstler sums it up wonderfully: "If America could harness the energy from blowing smoke up it's own ass, we could solve the energy problem."
Though Sprawling from Grace has many of the familiar faces (like Kunstler) making many familiar pronouncements, it also presents some new interviewees and gives a fresh treatment to some of the angles. ASPO-USA co-founder Randy Udall offers the trenchant insight that "energy is wealth." Wonksters like Michael Dukakis and Bill Clinton, as well as hands-on urban thinkers like the mayor of Charlotte, North Carolina, all help fill in the political angle on the sprawl problem without getting into a blame game.
Though the movie is a clear critique of sprawl, it is actually sympathetic to the story of how we got here: Living outside the city was appealing and it was affordable for a time, so the gravitation towards it was understandable. The question is, now what?
The movie speculates that "our love affair with the car is fading." That seems more like wishful thinking rather than tires-on-the-ground observation. At least here in the United States, the average driver still loves their car and the fabulous degree of personal mobility it enables. What they hate is the snarly traffic and rude drivers; the never-ending maintenance and gougey repair bills; and, of course, the high price of gas when it spikes. The bottom line is, though, most Americans cannot imagine how their lives would run without a personal automobile. And to be fair, our current spread-out living arrangement makes that hard to envision.
But Sprawling from Grace argues that it no longer matters whether our first choice is a transition back to walkable communities, expanded mass transit in cities, and rail-based transportation networks. Without cheap, abundant oil, it's our only choice.
| | |
| --- | --- |
| In the end, the film is convincing in its assertion that the suburban way of life cannot and, ultimately, will not go on. Its focus on workable urban solutions saves Sprawling from Grace from being "just another peak oil movie." | |
One might be tempted to question whether the economic mess and future energy constraints make it rather unrealistic to think that we can undo 50 years' worth of sprawling infrastructure and rebuild it in a manner than will work on a much more limited energy budget in the future. That proposition seems especially daunting when one realizes that few of our leaders offer more than token support for sustainability—"growth" is still the mantra found in every politician's speeches—and that the vast majority of the public still does not see how fundamentally unsustainable our current direction is.
But we should at least start with an honest discussion why it's important to try to re-envision, reengineer, and re-build. Sprawling from Grace provides a good starting point for that conversation, helping us understand the problem and the solutions, arming with insight and facts so that we can make apt changes in our own lives and push our leaders to choose a new path. The "new urbanist" lifestyle will not be for everyone, but many more people will be living that way in the future by necessity.
Check out 'Sprawling from Grace, Driven To Madness' at Amazon.com

Or search
Amazon.com for more...
Liner notes for 'Sprawling from Grace, Driven To Madness':
Tagline: We've become the oil tribe! Categories: Peak Oil, Suburban Sprawl. A film by David M. Edwards. Runtime: 82 minutes
FREE AUDIO CLIPS

Grinning Planet also has audio . . .
CATEGORY: ENERGY — 21.FEB.2014

Progressive Commentary Hour

Energy is What We Have to Spend; Money Just Represents Who Controls the Energy — Energy mavens Kurt Cobb and Nate Hagens update us on the energy predicament. Cobb observes that the average daily price of oil has stayed near the all-time high over the last three years, and he explains the math on why the US will never be energy independent. Hagens reviews the incredible numbers on how many "slave equivalents" are found in a barrel of oil, reminding us how dependent we are on energy and how relatively cheap it actually still is. He offers a number of maxims that are critical for everyone to understand: (1) Energy is what we have to spend; money is who controls the energy. (2) The economy is a subset of the environment, not vice versa. (3) Biology determines what we need; culture determines what we have and how we get it.
Page for full track listing | Download/listen 57:08

GP comment: Hagens paints a bleak picture when he discusses the psycho-social challenge of trying to convince the general populace to be sustainable, but his logic is undeniably consistent with observable behaviors and attitudes.

Original Show Pub Date: 10.Feb.2014

CATEGORY: RESILIENCE, FINANCIAL — 18.FEB.2014

Peak Prosperity

FerFal: Here's What It Looks Like When Your Country's Economy Collapses — Want to know what it's like living through a currency collapse? Argentina is providing us with a real-time window: The country has defaulted on its sovereign debt three times in the past 32 years and looks poised to do so again soon. Fernando "FerFal" Aguirre began blogging during the hyperinflationary destruction of Argentina's economy in 2001 and has since dedicated himself to educating the public on issues related to resilience. He sees many parallels between the path that led to Argentina's decline and the similar paths most countries in the West, including the US, are currently on.
Go to page | Download/listen 36:41

GP comment: To a large extent, problems in the non-US economies today are due to the Fed-based players creating chaos in other financial markets to keep demand high for the US dollar, which they are simultaneously debasing. If the US does ever default on its debt, it would be a much bigger deal than an Argentine default because the dollar is the global reserve currency. Its demise would mean an end to the free boost in standard of living the average American has enjoyed for 2/3 of a century.

Original Show Pub Date: 08.Feb.2014

CATEGORY: COLLAPSE, EMPIRE — 14.FEB.2014

Vice

Apocalypse, Man—World's End According to Michael C. Ruppert — Michael Ruppert says we have a choice to make: approach living with a new state of consciousness, or descend into a dog-eat-dog scenario of endless war and grasping for depleting resources. This clip is from a new, half-completed film called Apocalypse, Man, which updates the stark assessment of the world Ruppert offered in 2009's Collapse. Topics include dirty energy technologies as exemplars of pre-collapse insanity; the militarization of local police departments as an early step on the path to centralized totalitarian control; why the public rejection of the US intention in Syria is a hopeful sign; and how Native American philosophy can inform "what we do next."
Watch | Download/listen 32:43

GP comment: There are bits of navel gazing here and there that will appeal only to Ruppert fans, but the meat of his analysis is must-listening for everyone.

Original Show Pub Date: 21.Jan.2014

MORE

Get more audio clips on peak oil and sprawl (and many more topics) in Grinning Planet's biweekly downloadable audio news feed.
ADVERTISEMENT
Hey, we don't pick
the Google ads! – GP
CLICKS ON OUR ADS AND PURCHASES VIA OUR AMAZON LINKS HELP SUPPORT THIS FREE SITE... THANKS!
---
"...More important than the deficit, more important then healthcare—more important than anything—we have got to do something about our energy strategy. Because if we permit the climate to continue to warm at an unsustainable rate, and if we keep on doing what we're doing until we're out of oil and we haven't made the transition, then it's inconceivable to me that our children and grandchildren will be able to maintain the American way of life and that the world won't be much fuller of resource-based wars of all kinds."
— former president Bill Clinton, speaking in Sprawling From Grace; Driven To Madness
---