A COUPLE OF UPCOMING MOVIES YOU MIGHT WANT TO MISS

In this fishy remake of a classic, seven killer whales infiltrate Japan and exact retribution for hundreds of years of whaling. It's "The Seven Shamurai" (working title, "Swordfishes").

Arnold Schwarzenegger takes some time out from governating to bring Conan the Barbarian back to the big screen. This time, it's "Conan the Parliamentarian," as the well muscled statesman tries his best to foster democracy in an ancient tribe. Things go well until the debate gets a little overheated and the broadsword comes out to enforce Conan's Rules of Order.
Frankie Anneticello
— Beach Front Park, California
"I just saw the umpteenth sequel to 'Beach Blanket Bingo.' In this one—'Beach Blanket Lingo'—Frankie and Annette uncover a plot to educate all the beach kids so they talk like normal people. No way! Way."

---

We've uncovered a plot in the system that puts food on your table!
Expose the plot on the next page
ADVERTISEMENT
"Skateaway"
– Dire Straits, from the album Making Movies

She gets rock 'n' roll on a rock 'n' roll station,
And a rock n roll dream . . .
She's making movies on location;
She don't know what it means.
And the music make her wanna be the story,
And the story was whatever was the song, what it was . . .
Rollergirl don't worry—
D.J. play the movies all night long . . .

Album Review: Somewhere between their hits with "Sultans of Swing" and "Money For Nothing," Dire Straits found time to craft one of the finest albums of all time—Making Movies. Though it did not produce a hit single on a similar order of magnitude, it features a collection of top-notch progressive pop songs that do not disappoint.

The album opens with the sound of an old-timey Hammond organ, reminiscent of the silent movie era, but quickly progresses into the Dire Straits voice-guitar-drum music we're so familiar with. But right away it's pretty obvious that there is something going on here that is above and beyond what we normally hear from the boys—a combination of energy and nuance that is palpable but not quiet describable.

Fortunately for our ears, the towering opening track does not give way to mediocrity in the subsequent track, but rather to the best song on the album. "Romeo and Juliet" honors Shakespeare in a modern way, painting an aching portrait of romantic trials that is extremely powerful. (Stevie Nicks was reportedly so blown away by the song that she announced she would have to write her own tribute to Romeo and Juliet.)

Amazingly, there are two more songs on the album that achieve this level of near-perfection: "Skateaway" and "Hand in Hand." The former is a rhythmic stroll through summer city life, punctuated with more great guitar licks from Mark Knopfler; the latter picks up the theme of bitter-sweet romance where "Romeo and Juliet" leaves off.

The three remaining tracks on the album are all solid, though they are much more along the lines of the tunes Dire Straits did on their first two albums (which makes them good, but not quite amazing, like the other songs on Making Movies).

Overall, the album contains Dire Straits' strongest, most consistent work. I once told a friend how excellent "Making Movies" was, but he was skeptical, since he already thought other Dire Straits albums were excellent. His comment later, after listening to it: "Man, you were right!" I still am. :-)

For reviews, to hear clips, or to get purchase info,
go to Amazon.com . . .

AMAZON PURCHASES FROM HERE HELP SUPPORT THIS FREE SITE. THANKS!

Search Amazon.com for more...
Hey, we don't pick
the Google ads! – GP
CLICKS ON OUR ADS AND PURCHASES VIA OUR AMAZON LINKS HELP SUPPORT THIS FREE SITE... THANKS!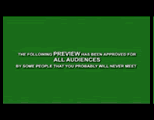 After Ocean's 11, 12 and 13, how many more will there be? This "Ocean's 40" fake movie trailer is an amusing animated tweak on that theme. From How It Should Have Ended. Go there
Or see more ...
Funny Animations/Videos