Our rich Aunt Regina's clothes were always the latest things from the top fashion designers. She explained her philosophy as follows: "If it's expensive and ugly, it's for me."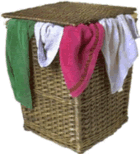 Most of us poorer folk wear more normal clothes, and whether they're a sight to make eyes sore or not, when we're done wearing them, they get washed and dried. We put the clothes in the washer, then we put the clothes in the dryer, then we throw a dryer sheet in after them. It's the way it's done. Some people also use liquid fabric softener in the wash cycle. All this softening and sweetening is part of Better Living Through Chemistry. Or is it?
Your supposedly non-toxic fabric softener or dryer sheets likely include some of the following not-so-snuggly ingredients: alpha-terpineol, benzyl acetate, camphor, benzyl alcohol, limonene, ethyl acetate, pentane, and chloroform. According to the manufacturers' Material Safety Data Sheets, these chemicals have the potential to do things to you such as:
cause central nervous system disorders, headaches, and loss of muscle coordination;
irritate mucous membranes and impair respiratory function;
cause nausea, vomiting, dizziness, or drowsiness;
cause liver or kidney damage;
cause skin disorders and allergic reactions;
cause cancer.

One of these chemicals even contains the warning "Do not flush into sewer system" (which, unfortunately, happens every time fabric softener with this particular chemical gets used). Another of the fabric softener chemicals appears on the Environmental Protection Agency's hazardous waste list.
People are exposed to the chemicals by breathing the aromatic molecules in the air near the clothes or by absorbing them through the skin via direct contact with the clothes (which, by design, retain some of the fabric softener/dryer sheet molecules).
You may now be thinking of several "buts" to our suggestion that dryer sheets and fabric softeners are not safe. Let's explore them:
BUT #1: "If the product is allowed to be sold, it must be safe."
RESPONSE: You'd think so, but it's just not so. Most chemicals used in household products have not undergone in-depth testing to determine their effects on people, particularly long-term effects.
BUT #2: "I don't feel ill when I use these products; in fact, I LIKE the smell."
RESPONSE: Chronic chemical exposure usually takes years to catch up with you, and the negative effects are often subtle and emerge slowly. The connection between chronic chemical exposure and an emerging health situation may not be obvious. Further, the chemicals used in fragrant products can induce a narcotic effect in humans, enticing you to crave more exposure at the same time you're suffering the overall negative effects of the exposure.
STAY CURRENT WITH THE LATEST AUDIO DOWNLOADS
CATEGORY: AGRICULTURE, CHEMICALS — 17.DEC.2014

Food Sleuth Radio
Pesticides—Beware the Drifter — Attorney Amanda Heyman's job is providing legal counsel for independent farmers and food businesses. Here she discusses the legal aspects of pesticide drift, GMOs, organics, and "natural" labeling.
Go to page | Download/listen 28:15
GP comment: Pesticide drift may sound like a boring technical topic, of limited interest to anyone but farmers. But it affects a wide variety of issues, from air quality for residences around non-organic farms to the integrity of organic foods.
Original Show Pub Date: 20.Nov.2014
CATEGORY: ENVIRONMENT (CHEMICALS) — 04.NOV.2014

Living on Earth
Green Groups Sue EPA Over Agent Orange-Related Herbicide — A coalition of environmental groups and farmers is suing the EPA over approval of Dow Chemicalís new GMO crop herbicide, Enlist Duo, a combination of glyphosate and 2,4-D, one of two active ingredients in the notorious Vietnam-era defoliant Agent Orange. The lawsuit alleges inadequate environmental and health assessments by the agency. Bill Freese of the Center for Food Safety discusses the suit and the effects the herbicide is likely to have on weed resistance and pollinators.
Go to page | Download/listen 8:35
GP comment: This case has gotten a lot of press, but the entire pesticide regime is out of control, as a walk down the pesticide aisle in the gardening section of a big-box store will tell you.
Original Show Pub Date: 31.Oct.2014 ~~ Original story title: Agent Orange-Related Herbicide Approved for GMO Crops; EPA Sued
CATEGORY: ENVIRONMENT (TOXICS, CLIMATE) — 23.SEP.2014

TUC Radio
Poisoning the Sky—A Community Investigates Chemtrails and Fights Back — Residents of Shasta County, California have documented that the lingering white trails in the sky above—chemtrails—are correlated with an increase in toxic contaminants in rain, snow, and surface water, including aluminum, barium and strontium. In this clip, we hear experts and citizens present their evidence before the Shasta County Supervisors as a matter of public health and an issue of citizens' right to know. They point out that the chemicals in the contaminated water are also found in patents for weather modification chemicals used by the military and private contractors.
Go to page | Download/listen 30:00
GP comment: This is not concerned citizens making unsupported allegations. There is science here, presented by credentialed witnesses.
Original Show Pub Date: 10.Sep.2014

MORE
Get more audio clips on household chemical issues and many more topics in Grinning Planet's biweekly downloadable audio news feed.
BUT #3: "The static cling! Aeeieieee!"
RESPONSE: Yes, while people may be willing to give up the cozy smell that dryer sheets impart to their clothes, static electricity in clothes that come out of the dryer is a problem. Some solutions are listed below.
TIP #1 — The easiest trick is to not dry clothes quite completely. The small amount of remaining moisture keeps static cling from getting a foothold. You can use drying racks to spread clothes out to do their last 10% of drying. If you're a bit more industrious, you can hang a couple of pieces of pipe from the ceiling in your laundry area. You can then put the drying clothes on hangers and hang the hangers on the pipes. It also helps to check the dryness level of the clothes in the dryer several times—clothes of different fabric composition and thicknesses get dry at different paces.
TIP #2 — Wash and dry cottons and synthetic fabrics separately. It's the synthetics that cause most of the static problems. Consider using the dryer minimally or not at all for nylon, rayon, and other synthetic fabrics. They usually dry quickly using the air-dry techniques in suggested in Tip 1.
TIP #3 — Tips 1 and 2 may not work so well for people without in-home washer/dryers, but there are more solutions to be had:
Vinegar is a natural fabric softener. Use 1/2 cup in the wash cycle. (But don't use bleach at the same time—mixing vinegar and bleach may create toxic fumes.)
Try a natural laundry soap that has a built-in soy-based fabric softener. Check with your local natural foods store, or shop online. There are also several natural liquid fabric softeners on the market, some of them without fragrances. (We absolutely love the Ecos/Earth Friendly brand of natural laundry detergents. Most have the soy-based fabric softener—check the label.)
Rumor has it that putting a piece of aluminum foil in with the clothes will dissipate static. Even so, you would not want to over-dry the clothes; doing so would still encourage static buildup. (And if your dryer starts picking up broadcasts from Jupiter, don't blame us.)
Are dryer balls a miracle solution to the wrinkling/static problem? We at Grinning Planet have no direct experience with dryer balls, so we reviewed some opinions from people who do. We've summarized their comments below, adding a few comments.
We can see how the spiky little dryer balls would help keep clothes fluffed. It's less obvious how dryer balls would combat static buildup, and indeed, one reviewer noted that the balls did not stop static during wintertime dryer use (when ambient humidity tends to be low, which promotes static). A number of people commented that the balls did not work, period.
One reviewer said the balls fluffed the clothes but damaged them, putting holes and tears in them. Alternatively, several people suggested using 3-6 tennis balls to cut down on wrinkles. This would also eliminate any possibility of your clothing getting stabbed by the spiky balls, but the tennis balls will add noise to the dryer cycle, the dye on the tennis balls could come off on light-colored clothes, and how this would reduce static cling is unclear.
One other negative of the spiky dryer balls is that PVC seems to be the material of choice for manufacturing them. So, even though the balls' operation does not apply chemicals to your clothes (as dryer sheets and fabric softeners do), the balls themselves are made of a rather odious chemical that will off-gas, at least for a while after they're new. A reader also told us that one of her dryer balls began deteriorating after only a couple of weeks, mixing crumbly bits of PVC-laced material in with the drying clothes.
Some people do seem to have success with dryer balls, but the number of complaints we've seen casts a pretty big shadow on dryer balls as a good alternative to dryer sheets and fabric softeners.
You may be satisfied that your adult body will be OK even if you continue to use dryer sheets and fabric softeners, but you still might consider making a change if there are kids in your household. Children's developing bodies are especially susceptible to the negative effects of chemical exposure.
We can't help you with your fashion sense, but ditching the chemical fabric softeners may help your brain emerge from its "fragrance fog"!
Know someone who might like this article about alternatives to dryer sheets and fabric softener? Please forward it to them.

Books:

More articles and resources on....