CAMPAIGNING TIPS FOR POLITICIANS:

When asked about education, don't say, "We MUST improve the education system—I'm living proof."

Avoid slips of the tongue, such as: "Though I may disagree with senators on the other side of the aisle, I firmly believe in the merits of the two-porky system."

When asked about service to your country, tell them your analyst says you're at war with yourself.
Dotty Diogenes
— honest politician
"Sometimes the people need to hear the truth. In high school I was voted 'Most Likely To Tax.'"

---

Taxation is an unlikely way to make the world better for you and your kids. Or is it?
Read the write-off on the next page
LYRICS FOR A CAMPAIGNING PLANET
"Nadine" – Stan Ridgway, from the album The Big Heat

Pushin' through the crowd, tryin' to get to where she's at
I was campaign-shouting like a Southern diplomat

REVIEW: Some people may still best remember Stan Ridgway for his "Wall of Voodoo" days and the hit song "Mexican Radio," but he's done some excellent work since then, and the album "Big Heat" is one of his masterpieces. Top-notch songs include: "The Big Heat," "Camouflage," "End of the Line," "Drive, She Said," and the excellent instrumental, "Rio Greyhound."
For more reviews, to hear clips, or to get purchase info,
click here to go to Amazon.com
AMAZON PURCHASES FROM HERE HELP SUPPORT THIS FREE SITE. THANKS!
Search Amazon.com for more...
ADVERTISEMENT
Hey, we don't pick
the Google ads! – GP
CLICKS ON OUR ADS AND PURCHASES VIA OUR AMAZON LINKS HELP SUPPORT THIS FREE SITE... THANKS!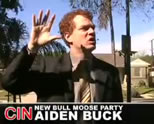 CAMPAIGN TRAIL
A funny, ultra-satirical video spoofing a campaign contest between two very polarized opponents. From Jokey Bits via YouTube... Go there
Or see more ...
Funny Animations/Videos