Superhero Cartoon
Faster than superman humor, more powerful than a spiderman joke—it's a superhero cartoon!
HOW THE SUPERHERO BUSINESS HAS
CHANGED IN THE PAST 50 YEARS:

Old-time superheroes never had to deal with cries of, "Someone help me! My computer just locked up!"
Old-time superheroes never used to call in FEMA for the really tough disasters.
Old-time superheroes were willing to endure high levels of pain to avoid showing any bulge in their tights.
Superman
– classic superhero

"Don't forget this one: Old-time superheroes never had to worry about sexual harassment lawsuits. ('Members of the jury, I will show how the defendant, using his
x-ray vision, caught a free peek and caused pain and suffering to my client.')"

---

Are pesticides among the supervillains that threaten
our kids? Be a hero and find out in our article
Pesticide Exposure and Effects on Children ...
ADVERTISEMENT
The Science of Superheroes – by Gresh & Weinberg

Could a poison spider bite really have transformed Peter Parker into Spider-Man? Could a real-life Aquaman ever breathe through gills? Welcome to the intersection of science and superheroes. Genetics, biology, astrophysics, freakology—it's all in this book. Science class was never this fun!

For reviews, to see sample pages or table of contents, or to get purchase info, click here to go to Amazon.com

AMAZON PURCHASES FROM HERE HELP SUPPORT THIS FREE SITE. THANKS!

Search Amazon.com for more...
FREE AUDIO CLIPS

Hey, we don't pick
the Google ads! – GP
CLICKS ON OUR ADS AND PURCHASES VIA OUR AMAZON LINKS HELP SUPPORT THIS FREE SITE... THANKS!
"I'm not normally a praying man, but if you're up there, please save me, Superman!"
– Homer Simpson
See more ...
Funny Superhero Quotes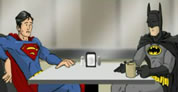 A funny cartoon where Superman first deals with Lex Luthor's 'impossible' task and then chats with Batman over coffee. Via YouTube. Go there
Or see more ...
Funny Animations/Videos