HOW
PEOPLE
FEEL
ABOUT
SITTING IN
TRAFFIC:

20%
It's a good way to learn
mental patience.
80%
It's a good way to become
mental patients.
Reed Driver




Books on Audio marketing manager

"Here are the results of our latest survey on what types of self-improvement tapes commuters are listening to during traffic jams."
– 30% – Foreign language tapes
– 50% – Business-skills tapes
– 20% – Curse-word vocabulary tapes

---
ADVERTISEMENT
"Traffic Jam"
– James Taylor, from the album JT

Well I left my job about 5 o'clock.
It took fifteen minutes go three blocks—
Just in time to stand in line,
With a freeway looking like a parking lot.
Damn this traffic jam—
How I hate to be late.
It hurts my motor to go so slow—
Damn this traffic jam.
Time I get home, my supper'll be cold—
Damn this traffic jam. more

Album Review: We've all been there: Cursing, fretting, and sweating over the mess on the road before us. Don't worry, just pop in a CD and relax with James Taylor! This album finds JT with one foot still in his early singer-songwriter mode, with the smooth "Secret O' Life" being a prime example of that style here. His other foot is kicking around covers of songs other people made famous, and on JT the breakout cover was the mega-hit "Handy Man." Other strong songs include the bouncy "Your Smiling Face"; the satirical and empathetic "Traffic Jam"; and the relaxed but heartfelt "Terra Nova." So, stuck in traffic? Fuhget about it! Just listen to this truckload of great songs.

For reviews, to hear clips, or to get purchase info,
go to Amazon.com . . .

AMAZON PURCHASES FROM HERE HELP SUPPORT THIS FREE SITE. THANKS!

Search Amazon.com for more...
Hey, we don't pick
the Google ads! – GP
CLICKS ON OUR ADS AND PURCHASES VIA OUR AMAZON LINKS HELP SUPPORT THIS FREE SITE... THANKS!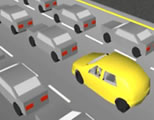 Well, we thought the solution to chronic traffic problems was more use of mass transit, for people to live closer to work, and tax shifting off of income and onto fuel. Silly us. Nothing so ambitious is necessary. This satirical video short from The Onion shows how a simple solution to the problem is right at hand. Watch funny traffic video.
Or see more ...
Funny Animations/Videos
Or see more ...
Environmental Animations/Videos