Many of us find joy in receiving or buying gold jewelry, be it a gold chain, gold charm, gold bracelet, gold necklace, or gold ring—or maybe even,

for those into the pirate look, a gold tooth. Gold has been prized throughout human history, but prices for some gold jewelry today remain surprisingly affordable.
Unfortunately, there is a hidden cost to the gold with which we adorn ourselves. For instance, production of the gold needed for an average 18-karat gold ring leaves 20 tons of polluted mining waste behind.
This article is not going to be a pitch against gold jewelry, but rather an expose of "dirty gold." So, fire up the gold contacts inside your computer's motherboard and let's see how it all pans out.
When you think of gold mining, you may envision someone using a pan or a screen to sort out gold nuggets in a stream bed, or a miner with a pick-axe toiling deep in an underground mine, looking for the mother lode.
Gold mining today is different than that in a couple of ways. First, open-pit gold mines are common now, where the "overburden"—the grass and trees and every other living thing above the place to be mined—is removed and the ore is blasted and scooped out. Not only do open-pit mines scar the landscape, they produce 8 to 10 times more waste than underground mining.
Another even more serious problem is the fact that gold is now rarely found as nuggets, but rather is extracted chemically from the ore by using a cyanide leaching process. Though this process is designed to be a closed system, with leach heaps and contaminated tailings isolated from their surroundings, their long timeframes and the extensiveness of the operations usually lead to cyanide and other toxics eventually getting into the surrounding land, surface water, and groundwater.
In some cases, acid mine drainage—in which the sulfides in the now-exposed rock waste combine with water to form sulfuric acid—turns groundwater more toxic than battery acid. As for cyanide, an amount of it equivalent in size to a grain of rice will kill a human, and very low concentrations of cyanide in surface water will kill fish.
Metals mining produces more toxic pollution than any other industry in the United States. It is responsible for 96% of arsenic emissions and 76% of lead emissions. Every year, US mines generate an amount of waste equivalent in weight to almost nine times the trash produced by all US cities and towns combined.
According to the International Labour Organization, mining is responsible for 5% of workplace deaths each year.

Gold mining operations in developing countries, in addition to affecting local peoples through pollution, also sometimes are a source of human-rights violations. For instance, in the west African nation of Ghana, which has extensive gold mines, a Commission on Human Rights and Administrative Justice found "overwhelming evidence of human rights violations occasioned by the mining activities, which were not sporadic but a well established pattern common to almost all mining communities."

How bad are metals mining corporations? Earthworks and Oxfam report that the Calvert Group, a US investment firm that runs socially responsible mutual funds, has no holdings in any metals mining companies (as of January 2004) because none meet Calvert's criteria for corporate responsibility.

GOLD MINING – PAYING THE PRICE

•
Between 1990 and 1998, more than 30,000 people were displaced by gold mining operations in the district of Tarkwa in Ghana.
•
In 1992 in Summitville, Colorado (USA), a containment dam that held mine waste from a gold mining operation burst. The escaped toxic waste killed all life along a 25 km stretch of a nearby river.
•
120,000 tons of toxic waste spilled from the Baia Mare gold mine in Romania in 2001, contaminating the drinking water of 2.5 million people and killing 1,200 tons of fish.
•
At the Giant gold mine near Yellowknife, Canada, there are 237,000 tons of arsenic dioxide dust stored underground. The storage area is now starting to leak.
SOURCES: NoDirtyGold.org, Greenpeace, Reuters
According to the Gold Institute, gold's superior electrical conductivity, malleability, and resistance to corrosion have made it vital to the manufacture of components used in a wide range of electronic products and equipment, including computers, telephones, cell phones, and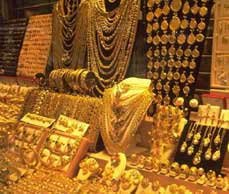 home appliances. Other properties have made it important to spacecraft and satellites; industrial and medical lasers; medical research and treatment of some diseases.
But the whopper in terms of the amount of gold consumed worldwide is gold jewelry, which accounts for 80% of the gold used. But even if you don't ever buy jewelry, other aspects of your life are very likely tied to gold in some way. That makes just about all of us responsible to some degree for the problems associated with gold.
Unfortunately, unlike in the world of agriculture, where we can turn to organic food as a way of protesting the problems associated with chemical-based agriculture, there is no such "certified" gold equivalent. You may choose to seek out gifts other that jewelry, but when you find
STAY CURRENT WITH THE LATEST AUDIO DOWNLOADS

Between the Lines
Study Exposes Environmental Cost of Mountaintop Removal Coal — 12 Oct 2013 — Coal production from mountaintop removal mining is especially destructive, as it destroys Appalachian ridges, buries streams under tons of rocks and dirt, and taints local air and groundwater. These effects have been implicated in human health issues. In September, researchers released data comparing environmental damage from mountaintop removal mining to the amount of energy produced across the central Appalachian region. Brian Lutz, assistant professor of biogeochemistry at Kent State University and lead author of the study, summarizes the findings.
Go to page | Download/Listen 7:24

Between The Lines
Activists Against Mountaintop Removal Coal Mining Face Political, Education Battles — 27 Mar 2013 — Blowing the tops off mountain ridges to get at the coal seams beneath—and dropping the rocks and other debris into mountain streams below—continues unabated, mainly in West Virginia, where the politicians are literally 100% behind the coal industry. Two activists with the Keeper of the Mountains Foundation toured Connecticut recently, speaking at area colleges and other venues. Paul Corbit Brown explains why people the US does not need to depend on coal, and why public education on the ills of coal mining is a good strategy.
Go to page | Download/Listen 7:22

NPR
Wisconsin's Scott Walker: "I Am Iron Man" — 25 Feb 2013 — Plagued by a stagnant economy, Wisconsin governor Scott Walker is pushing a rewrite of state mining laws to clear the way for a massive open-pit iron mine. Although it's been mostly dormant for more than 50 years, proponents hope reopening the mine will rejuvenate an industry that helped build Wisconsin generations ago. But the proposal's sweeping changes to environmental protections have met fierce opposition.
Go to page | Download/Listen 4:45

MORE
Get more audio clips on mining, coal, and many more topics in Grinning Planet's biweekly downloadable audio news feed.
that it's one of those occasions when purchasing gold jewelry seems a must, Radhika Sarin of the mining watchdog group Earthworks offers the following tips for buying the most eco-friendly gold possible:
Buy antique gold jewelry or previously owned gold jewelry. The gold for these pieces has already been mined and processed and there is no additional environmental impact when you buy it.
If you feel that only brand-spanking-new gold jewelry will do, then consider ordering from greenKarat.com, an outfit that makes it's jewelry from recycled gold and other precious metals (which can include scrap from factory floors, metals fabricated into coins and other items, and metals from old jewelry).
The NoDirtyGold project suggests some additional ways you can help:
Recycle products that contain metals, especially electronics. This will lessen the need for new gold to be mined.
[Check with your local government, or look up recycling info at www.earth911.org]
If you have investments that you control (such as mutual funds or a retirement account) direct them to socially responsible funds and companies.
Take the NoDirtyGold Pledge to help convince retailers, manufacturers, and mining companies that consumers want to see real changes in the mining industry and an alternative to "dirty gold."
[Take the pledge at www.nodirtygold.org]
Do you know someone who might find this article interesting?
Please forward it to them
More articles and resources on....