Many of us find joy in receiving or buying gold jewelry, be it a gold chain, gold charm, gold bracelet, gold necklace, or gold ring—or maybe even,

for those into the pirate look, a gold tooth. Gold has been prized throughout human history, but prices for some gold jewelry today remain surprisingly affordable.
Unfortunately, there is a hidden cost to the gold with which we adorn ourselves. For instance, production of the gold needed for an average 18-karat gold ring leaves 20 tons of polluted mining waste behind.
This article is not going to be a pitch against gold jewelry, but rather an expose of "dirty gold." So, fire up the gold contacts inside your computer's motherboard and let's see how it all pans out.
When you think of gold mining, you may envision someone using a pan or a screen to sort out gold nuggets in a stream bed, or a miner with a pick-axe toiling deep in an underground mine, looking for the mother lode.
Gold mining today is different than that in a couple of ways. First, open-pit gold mines are common now, where the "overburden"—the grass and trees and every other living thing above the place to be mined—is removed and the ore is blasted and scooped out. Not only do open-pit mines scar the landscape, they produce 8 to 10 times more waste than underground mining.
Another even more serious problem is the fact that gold is now rarely found as nuggets, but rather is extracted chemically from the ore by using a cyanide leaching process. Though this process is designed to be a closed system, with leach heaps and contaminated tailings isolated from their surroundings, their long timeframes and the extensiveness of the operations usually lead to cyanide and other toxics eventually getting into the surrounding land, surface water, and groundwater.
In some cases, acid mine drainage—in which the sulfides in the now-exposed rock waste combine with water to form sulfuric acid—turns groundwater more toxic than battery acid. As for cyanide, an amount of it equivalent in size to a grain of rice will kill a human, and very low concentrations of cyanide in surface water will kill fish.
Metals mining produces more toxic pollution than any other industry in the United States. It is responsible for 96% of arsenic emissions and 76% of lead emissions. Every year, US mines generate an amount of waste equivalent in weight to almost nine times the trash produced by all US cities and towns combined.
According to the International Labour Organization, mining is responsible for 5% of workplace deaths each year.

Gold mining operations in developing countries, in addition to affecting local peoples through pollution, also sometimes are a source of human-rights violations. For instance, in the west African nation of Ghana, which has extensive gold mines, a Commission on Human Rights and Administrative Justice found "overwhelming evidence of human rights violations occasioned by the mining activities, which were not sporadic but a well established pattern common to almost all mining communities."

How bad are metals mining corporations? Earthworks and Oxfam report that the Calvert Group, a US investment firm that runs socially responsible mutual funds, has no holdings in any metals mining companies (as of January 2004) because none meet Calvert's criteria for corporate responsibility.

GOLD MINING – PAYING THE PRICE

•
Between 1990 and 1998, more than 30,000 people were displaced by gold mining operations in the district of Tarkwa in Ghana.
•
In 1992 in Summitville, Colorado (USA), a containment dam that held mine waste from a gold mining operation burst. The escaped toxic waste killed all life along a 25 km stretch of a nearby river.
•
120,000 tons of toxic waste spilled from the Baia Mare gold mine in Romania in 2001, contaminating the drinking water of 2.5 million people and killing 1,200 tons of fish.
•
At the Giant gold mine near Yellowknife, Canada, there are 237,000 tons of arsenic dioxide dust stored underground. The storage area is now starting to leak.
SOURCES: NoDirtyGold.org, Greenpeace, Reuters
According to the Gold Institute, gold's superior electrical conductivity, malleability, and resistance to corrosion have made it vital to the manufacture of components used in a wide range of electronic products and equipment, including computers, telephones, cell phones, and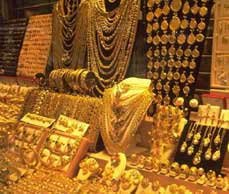 home appliances. Other properties have made it important to spacecraft and satellites; industrial and medical lasers; medical research and treatment of some diseases.
But the whopper in terms of the amount of gold consumed worldwide is gold jewelry, which accounts for 80% of the gold used. But even if you don't ever buy jewelry, other aspects of your life are very likely tied to gold in some way. That makes just about all of us responsible to some degree for the problems associated with gold.
Unfortunately, unlike in the world of agriculture, where we can turn to organic food as a way of protesting the problems associated with chemical-based agriculture, there is no such "certified" gold equivalent. You may choose to seek out gifts other that jewelry, but when you find
STAY CURRENT WITH THE LATEST AUDIO DOWNLOADS
CATEGORY: ENVIRONMENT (COAL) — 11.FEB.2015

Radio EcoShock
Talking Dirty... About Coal — Coal is a world-class environmental wrecking ball, with impacts affecting climate, mountains, streams, air pollution, food quality, and more. But hey don't worry about that; American jobs are at stake. That's the message coming from the National Center for Policy Analysis, or the NCPA. It's a tax-exempt organization that's been pumping out the big-business message for over 30 years. Here's an example of some recent NCPA coal propaganda: "Increasing US coal exports could be good for the US economy, workers, and the environment..." Really? Coal, good for the environment? Not so fast, mister...
Go to page | Download/listen 12:01
GP comment: Despite all the talk about moving away from coal, the pace is slow and mostly driven by economics, not concern for the environment or climate change.
Original Show Pub Date: 04.Feb.2015
CATEGORY: ENERGY, ENVIRONMENT (COAL, CLIMATE) — 12.NOV.2014

Radio EcoShock
India's Mega-Coal Plants — Targeted for 4,000 megawatts, the Sasan Ultra Mega Power Project (UMPP) in India is ten times the size of the average coal power plant in the United States. Worse still, we find ourselves in an Orwellian world, where a mega coal plant in India is classified as "environmentally friendly technology"; where electricity customers in Europe can buy credits from a coal plant as a "clean development mechanism"; and where hundreds of millions of US taxpayer dollars help build a dirty coal project. Nicole Ghio of Sierra Club International explains.
Go to page | Download/listen 21:55
GP comment: The project in India is just another example of our collective inability to sacrifice power demand for carbon reductions. It's just not going to happen. Alex Smith plays a brief sidebar at the end of this interview that sums it up perfectly. Listen, and awaken to climate reality.
Original Show Pub Date: 05.Nov.2014
CATEGORY: ENVIRONMENT (MINING) — 25.OCT.2014

Living on Earth
Mountain Top Removal Coal Mining Increases Cancer Risk — Overburden removal during mountain-top-removal coal mining in Appalachia blasts dust into the air that is then carried on the wind for miles and inhaled by nearby residents. Michael Hendryx is a Professor of Applied Health Science at Indiana University Bloomington and co-author of a study linking that dust to lung cancer. He's calling for a halt to this type of coal mining.
Go to page | Download/listen 6:41
GP comment: MTR mining is an obscene thing to do to a landscape. Don't believe the industry flacks when they say they "restore" the area once they are done. Sure, they plant stuff, but the ecosystem is not at all "restored."
Original Show Pub Date: 24.Oct.2014

MORE
Get more audio clips on mining, coal, and many more topics in Grinning Planet's biweekly downloadable audio news feed.
that it's one of those occasions when purchasing gold jewelry seems a must, Radhika Sarin of the mining watchdog group Earthworks offers the following tips for buying the most eco-friendly gold possible:
Buy antique gold jewelry or previously owned gold jewelry. The gold for these pieces has already been mined and processed and there is no additional environmental impact when you buy it.
The NoDirtyGold project suggests some additional ways you can help:
Recycle products that contain metals, especially electronics. This will lessen the need for new gold to be mined.
[Check with your local government, or look up recycling info at www.earth911.org]
If you have investments that you control (such as mutual funds or a retirement account) direct them to socially responsible funds and companies.
Take the NoDirtyGold Pledge to help convince retailers, manufacturers, and mining companies that consumers want to see real changes in the mining industry and an alternative to "dirty gold."
[Take the pledge at www.nodirtygold.org]
Do you know someone who might find this article interesting?
Please forward it to them
More articles and resources on....