Private Eye Cartoon
"I need to hire a private eye cartoon..." she said joke-ingly, as her killer gams
slapped my gaze around a little.
| | |
| --- | --- |
| | |
| | The private-eye division of Grinning Planet recently turned up evidence that your future food supply may be at risk. Investigate how you can reduce your risk—and save money—by surveilling our Food Security article... |
| | |
ADVERTISEMENT
LYRICS FROM "PRIVATE EYES"
(My) private eyes—
They're watching you;
They see your every move ...

HALL & OATES 20 BEST SONGS:
From the 1970s, when Hall and Oates were writing excellent but marginally popular folk-rock numbers, to the early 1980s, when they combined R&B with new-wave synths and head-wagging beats to repeatedly place songs on the top of the charts, these guys knew how to write and perform great pop tunes. A slew of their songs, including "Private Eyes" ... "She's Gone" ... "Maneater" ... "One on One" — are still finding airtime today — while gems like "Las Vegas Turnaround" remain fan favorites. Get the full rundown in GP's tribute to the 20 best Hall & Oates songs.

AMAZON PURCHASES FROM HERE HELP SUPPORT THIS FREE SITE. THANKS!

Search Amazon.com for more...
FREE AUDIO CLIPS

THE FURTHER ADVENTURES OF NICK DANGER


This is the ultimate hard-boiled private-eye spoof—often copied, never equaled. The 28-minute audio skit features a torrent of verbal gags, conceptual puns, and funny fake commercials, all in the format of an old-time radio show. Originally produced in 1969, some of the jokes in Nick Danger may feel a little anachronistic today, but overall, it's still a classic. Start with Part 1 on YouTube.

AMAZON OPTIONS:
- MP3 Download
- Original Album (CD)
- Video-ized Version



"SHE HAD GAMS THAT ... WERE NON-BIODEGRADEABLE"


It was a dark and stormy night... and perfect for some animation noire. "Sam Suds ... and the Case of PVC, the Poison Plastic" is a spoof of the hard-boiled P.I. genre that takes aim at that toxic perp known as Vinyl. Watch funny video about vinyl.



Or see more ...
-- Funny Multimedia
(non-eco)
-- Environmental Multimedia
(funny and serious)
Hey, we don't pick
the Google ads! – GP
CLICKS ON OUR ADS AND PURCHASES VIA OUR AMAZON LINKS HELP SUPPORT THIS FREE SITE... THANKS!
"I beg your pardon. But it's also customary for the private eye to tell how he figured it out."
– Rigby Reardon (Steve Martin) from Dead Men Don't Wear Plaid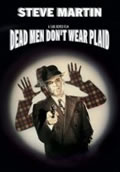 View on Amazon.com:
An underrated film from early in Steve Martin's career, Dead Men Don't Wear Plaid spoofs private-eye film noir by using spliced-in clips of actual footage from movies of the film noir era. The seamlessly deployed device allows Martin to "interact" with Humphrey Bogart, James Cagney, Burt Lancaster, Veronica Lake, Ingrid Bergman, Ray Milland, and others—all to clever, entertaining effect. Rachel Ward is luscious as the plot's prototypical "woman with a problem."