Job Promotion Cartoon
Looking for a job promotion? Cartoon your way to the secrets of career advancement! Joke your way to that next pay raise!
ADVICE FOR GETTING
AHEAD IN TODAY'S
WORK ENVIRONMENT:

1. TAKE INITIATIVE
Learn how to do something everyone else hates, like upgrading the computer network or maybe even brewing a new pot of coffee
2. NETWORK
Take full advantage of "people connections"—a great source of future job possibilities, and an easy way to circulate ugly rumors about people you dislike
3. BE FLEXIBLE
As necessary, grab undeserved credit for successes, shift blame for failures—that is, be the team weasel
4. IMPROVE EMAIL SKILLS
Write highly polished emails, texts, and tweets—in today's fast-paced economy, you're doomed if you don't know how to suck-up electronically
Claire Iffye
— Words Creek, Georgia
"You need to be able to read between the lines. For instance, it's a good sign if your boss refers to you as 'an important cog in the machinery'. It's not quite as good if he refers to you as 'the worm gear'..."

---

Here's some advice for getting ahead in today's comic strip environment.... Have some laughs at our green toons page...

Or see funny Promotion quotes or more funny cartoons
ADVERTISEMENT
"This is a test. It is only a test. Had it been an actual job, you would have received raises, promotions, and other signs of appreciation."

"REPRESENTATIVE, n. In national politics, a member of the Lower House in this world, and without discernible hope of promotion in the next."

"Yesterday I was a dog. Today I'm a dog. Tomorrow I'll probably still be a dog. Sigh... There's so little hope for advancement."

AMAZON PURCHASES FROM HERE HELP SUPPORT THIS FREE SITE. THANKS!

Search Amazon.com for more...
FREE AUDIO CLIPS

Hey, we don't pick
the Google ads! – GP
CLICKS ON OUR ADS AND PURCHASES VIA OUR AMAZON LINKS HELP SUPPORT THIS FREE SITE... THANKS!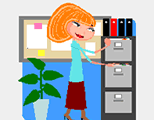 First, a funny commercial showing just how serious the competition has gotten for career advancement and job promotions. Then, a funny audio bit about how one temp worker is hoping to get ahead using a well honed skill. Watch job promotion video/audio.
Or see more ...
Funny Animations/Videos