Environmental Cartoon #1
"EVIDENCE" FROM A FEW
GLOBAL WARMING SKEPTICS:

"My husband has been producing copious amounts of 'greenhouse gases' for years, but the temperature in the house has not changed."

"The supposedly big problem with melting ice is a myth—the ice bucket in the limo is full, just like always."

"Things don't seem any hotter than normal here in hell."
Environmental Cartoon #2
WHERE AIR POLLUTANTS
COME FROM, ACCORDING
TO INDUSTRY:

From too many people
with too many tummy
troubles eating too
many eggs

From overly burdensome
taxes on the rich, which
have lessened their ability
to buy fine lead crystal,
the preferred method
of lead sequestration

From the butts of
left-wing cows chewing
commie alfalfa they got
from a pinko farm co-op
From a series of secret space
probes that were sent to planet
Mercury by the Johnson, Carter,
and Clinton administrations that
have kicked up clouds of "mercury
dust," which have now drifted back
to earth

From living, green plants, of
course, which exhale CO2.
(Anybody who couldn't come up
with that one obviously hasn't
spent enough time learning
how to misrepresent scientific
fact!)
Environmental Cartoon #3
BUMPER STICKERS RECENTLY SEEN ON H2 HUMMERS:

Honk if you're
high and mighty
Fe fi fo fum, I smell the oil of a hybrid scum
I'd rather be powerboating
Proud sponsor
of OPEC
Cartoon Guide to the Environment

by Larry Gonick

(Non-Fiction)

Who ever said you have to read stuffy old books to learn about the environment? This toony treatment of current environmental problems covers basics like chemical cycles and food webs, mid-level concepts such as ecosystems, and tricky topics like population growth and its impact on the planet. As in real life, the book has a plot: will life on the planet survive the eco-destructive tendencies of humans? This engaging take on the horror, hype, and hope related to environmental problems is for both kids and adults.

Read more reviews, see sample pages, or get purchase info for this book at Amazon.com

See more Books for a Better Planet
FREE AUDIO CLIPS

Hey, we don't pick
the Google ads! – GP
CLICKS ON OUR ADS AND PURCHASES VIA OUR AMAZON LINKS HELP SUPPORT THIS FREE SITE... THANKS!
---
"I think the environment should be put in the category of our national security. Defense of our resources is just as important as defense abroad. Otherwise what is there to defend?"
— Robert Redford
---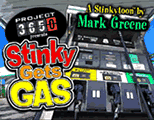 A funny Mark Greene animated cartoon about vehicle affordability and preference vs. fuel costs. Watch funny video on high gas prices.
Or see more ...
Environmental Animations/Videos
Or see more ...
Funny Animations/Videos