Campaign Cartoon
Politicians are campaign cartoon clowns--honk!--with un-funny political campaign slogans.
WORST POLITICAL CAMPAIGN SLOGANS:

"I spend more tax dollars before 10 AM than most Congressmen will spend all day."
"I suck way less than the other guy."
"I propose a radical downsizing of government—it would be just me and a few trusted henchmen."
Vic Tymm — voter
"My senator, Manny Grifter, is up for reelection this year, and I like the campaign slogan I'm hearing from him: 'I will DO something about crime—I'll lock MYSELF up.' "

---

We propose to DO something about the planet's fouled waterways, be they ocean-sized or just a little stream in your neighborhood. Check out our water pollution solutions article ...

Or see more funny cartoons or funny campaign quotes
ADVERTISEMENT
"Anyone that wants the presidency so much that he'll spend two years organizing and campaigning for it is not to be trusted with the office."

"Sometimes, political campaigns make decent people act and talk like perfect buffoons."

"Do not run a campaign that would embarrass your mother."

AMAZON PURCHASES FROM HERE HELP SUPPORT THIS FREE SITE. THANKS!

Search Amazon.com for more...
FREE AUDIO CLIPS

"When the president during the campaign said he was against nation building, I didn't realize he meant our nation."

– Al Franken

View on Amazon.com:
Hey, we don't pick
the Google ads! – GP
CLICKS ON OUR ADS AND PURCHASES VIA OUR AMAZON LINKS HELP SUPPORT THIS FREE SITE... THANKS!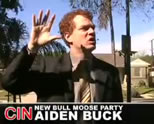 CAMPAIGN TRAIL
A funny, ultra-satirical video spoofing a campaign contest between two very polarized opponents. From Jokey Bits via YouTube... Go there
Or see more ...
Funny Animations/Videos