Movie Cartoon
Funny how these joke plots are only slightly less fake and ridiculous than plots from an actual Hollywood movie, cartoon or otherwise!
NEW MOVIE TRAILERS THAT SHOW HOLLYWOOD IS GETTING DESPERATE:

A woman finds herself on the verge of a dangerous mental meltdown after returning home to find her husband's poker buddies have used the Wedgwood saucers as ashtrays: "The Good China Syndrome"
It's adventure in space! It's virtually countless spotted dogs! It's a haywire computer named HAL! It's "2001: A Dalmatian Odyssey"!
New from first-time director "Bubbles" Greenspan, a thriller about a financial black hole caused by time-traveling commodities traders: "Back to the Futures"
Di Rector
— Hollywood producer
"I'm glad to see that Steven Spielberg is reaching back to his roots to do Yiddish remakes of a couple of classic movies. My understanding is that the working titles are 'Torah! Torah! Torah!' ...and... 'Twelve Angry Mensches'..."

---

Hollywood producers may have schpritz for brains, but you can
trust Grinning Planet's list of multi-star green-tinged movies to
provide choices that are popcorn-worthy AND mind-expanding.
See our environmental movies page...

Or see more funny cartoons or funny movie quotes
ADVERTISEMENT
"My movies were the kind they show in prisons and airplanes, because nobody can leave."

"Shoot a few scenes out of focus. I want to win the foreign film award."

"I was particularly stunned by the casting of [Tom] Cruise, who is no more my Vampire LeStat than Edward G. Robinson is Rhett Butler."

"So, where's the Cannes Film Festival being held this year?"

AMAZON PURCHASES FROM HERE HELP SUPPORT THIS FREE SITE. THANKS!

Search Amazon.com for more...
FREE AUDIO CLIPS

Hey, we don't pick
the Google ads! – GP
CLICKS ON OUR ADS AND PURCHASES VIA OUR AMAZON LINKS HELP SUPPORT THIS FREE SITE... THANKS!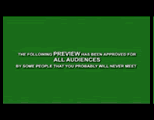 After Ocean's 11, 12 and 13, how many more will there be? This "Ocean's 40" fake movie trailer is an amusing animated tweak on that theme. From How It Should Have Ended. Go there