Alien Cartoon
Fear not the aliens! Joke as you tractor-beam this alien cartoon aboard your screen, with its alien dissection joke, alien attack joke, and Star Trek joke.
SIGNS THE PLANE YOU'RE ON MAY
ACTUALLY BE AN ALIEN SPACESHIP:

The pilot announces that he is preparing for takeoff and asks all passengers to fasten their gurney restraints
The overly friendly flight attendant casually asks where you're from, what sort of work you do, and what you know about Earth's global defenses
When you disembark, the attendant smiles and says, "As they say on your planet, 'Bye bye' "
Janus Horta
— Star Trek fan, recent flyer
"I didn't know whether to be elated or horrified when members of the flight crew suddenly pulled out disrupters and said, 'Take us to Kirk!' "

---

Is global warming just a hoax perpetrated by little green men and women from Planet Ecos? Or perhaps Dick Cheney and other climate-change refusniks are really reptilian aliens involved in a conspiracy of denial? Hmmm... We offer some thoughts in our piece, Global Warming Hoaxes and Conspiracies

Or see funny alien quotes or more funny cartoons
ADVERTISEMENT
From Futurama

Captain Zapp Brannigan: "Now, like all great plans, my strategy is so simple an idiot could have devised it. On my command all ships will line up and fly directly into the alien death cannons, clogging them with wreckage."

From Sphere (1998)

Barnes: "If this translation is right this alien sounds like an idiot."

Beth: "That's something to consider—a stupid alien. Well, they must have them."

From Doctor Who

Brigadier Lethbridge-Stewart: "Just once, I wish we would encounter an alien menace that wasn't immune to bullets."

Tommy Solomon: "At first, I was conflicted. We come from very different backgrounds. I'm an alien and she's a Presbyterian."

Check out any item on Amazon.com by clicking title.

AMAZON PURCHASES FROM HERE HELP SUPPORT THIS FREE SITE. THANKS!

Search Amazon.com for more...
FREE AUDIO CLIPS

Hey, we don't pick
the Google ads! – GP
CLICKS ON OUR ADS AND PURCHASES VIA OUR AMAZON LINKS HELP SUPPORT THIS FREE SITE... THANKS!
A funny, clever spoof on the possibility that we humans are neither descended from monkeys nor from Adam and Eve; rather, we were cooked up in an alien genetics lab long ago (a theory that has been seriously proposed by a number of people!)... Watch funny aliens video.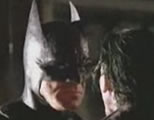 This 6-minute video starts as a typical head-to-head between Batman and The Joker, but the action soon veers into alien territory as some uninvited guests show up. This is surprisingly good! Watch cool batman video.
SEE MORE ...
Funny Videos/Animations