FUNNY ALIEN QUOTES
If you encounter a funny alien, quotes may come from his mouth, or maybe from his glibnorp.
"The only thing that scares me more than space aliens is the idea that there aren't any space aliens. We can't be the best that creation has to offer. I pray we're not all there is. If so, we're in big trouble."
"How would it be if we discovered that aliens only stopped by earth to let their kids take a leak?"
"What are you gonna do, talk the alien to death?"
"Babies have big heads and big eyes, and tiny little bodies with tiny little arms and legs. So did the aliens at Roswell! I rest my case."
"Don't get me wrong—I'm very thankful for all the aliens I've met and loved."
ADVERTISEMENT
From The Simpsons
Leonard Nimoy: "Hello. I'm Leonard Nimoy. The following tale of alien encounters is true. And by true, I mean false. It's all lies. But they're entertaining lies. And in the end, isn't that the real truth? The answer is: No."
Tommy Solomon: "At first, I was conflicted. We come from very different backgrounds. I'm an alien and she's a Presbyterian."
From Doctor Who
Brigadier Lethbridge-Stewart: "Just once, I wish we would encounter an alien menace that wasn't immune to bullets."
From Doctor Who
Rose Tyler: "I think you should do a scan for alien tech. Give me some Spock! Just once, would it kill you?"
From Perfect Strangers
Balki: "Yepper! I may be an alien bent on world conquest, but I am no liar."
From Futurama
Captain Zapp Brannigan: "We have failed to uphold Brannigan's Law. However I did make it with a hot alien babe. And in the end, is that not what man has dreamt of since first he looked up at the stars?"
From Futurama
Captain Zapp Brannigan: "Now, like all great plans, my strategy is so simple an idiot could have devised it. On my command all ships will line up and fly directly into the alien death cannons, clogging them with wreckage."
AMAZON PURCHASES FROM HERE HELP SUPPORT THIS FREE SITE. THANKS!
Search Amazon.com for more...
FREE AUDIO CLIPS

From Dark Star (1974)
Computer: "May I remind you, Sgt. Pinback, it was your idea to bring the alien on board in the first place. If I may quote you, you said the ship needed a mascot."
From Art House (1998)
Joey: "Do whatever you want, strange alien beings. Take my blood, my organs, my semen, but please, please, don't make me late for work."
From Sphere (1998)
Barnes: "If this translation is right this alien sounds like an idiot."
Beth: "That's something to consider—a stupid alien. Well, they must have them."
From Sphere (1998)
Barnes: "I want a full name for my report. I'm not putting in my report that I lost a crew member on a deep-sat expedition to find an alien named 'Jerry.' "
From The Wrong Guy (1997)
Lynn Holden: "I feel that I'm a pretty intuitive person. Except for that one guy who said he was an advanced scout for an alien invasion force but it turned out he just wanted to get inside my pants."
AMAZON PURCHASES FROM HERE HELP SUPPORT THIS FREE SITE. THANKS!
Search Amazon.com for more...
You can get new funny quotes every month
free by email
Know someone who would enjoy
this page of Funny Alien Quotes?
Send page

YOUR TIN FOIL HAT WON'T SHIELD YOU FROM CLIMATE DISRUPTION
Is global warming just a hoax perpetrated by little green men and women from Planet Ecos? Or perhaps Dick Cheney and other climate-change refusniks are really reptilian aliens involved in a conspiracy of denial? Hmmm... We offer some thoughts in our piece, Global Warming Hoaxes and Conspiracies
SIMILAR CATEGORIES

Funny Quote subject list

Jokes/Cartoons (General)

PASS 'EM ON!

Do you know someone who would like these funny quotes about aliens? Please forward to them.

SEND ME A
FUNNY ALIEN QUOTE

If you know of a funny alien quote that I missed, please email it to me. Provide the text of the quote and who said it (and, if you have it, a web reference where we can verify the text and the spelling of the person's name, etc.). So... email me a quote. Thanks!

Lifeboat Hour

Circling the Drain... But Where Does the Drain Lead? — 08 Nov 2013 — Mike Ruppert thinks the seriousness of civilization killers like Fukushima and catastrophic climate change have taken humanity beyond the point of being able to regain control. Not even his keynote "changing the way money works" will fix things now. But what is on the other side of collapse? To explore that question, Ruppert features some clips from Terrence McKenna, who offers many apt observations, including: We are experiencing the fire in the madhouse at the end of time. But to fear this cataclysmic transition is to misunderstand—this is what species do when they return to the stars.
Go to page | Download/Listen 1:00:00

ExtraEnvironmentalist

Better Than Normal — 30 Oct 2013 — Society at large dramatically underestimates human potential, placing our imagination within a limited range of possibilities. What are the psychological limits of our species? Is there reliable scientific evidence of supernormal human capabilities? What areas of scientific study could replace the failing aims of a materialist scientific paradigm? Would compelling evidence for special abilities change our beliefs and institutions? Researcher Dean Radin discusses.
Go to page | Download/Listen 1:26:42

Meria Heller Show

Betsy Thompson: What Happens If I...? — 10 Nov 2013 — Author Betsy Thompson discusses the themes in her book What Happens If I.... Life isn't meant to be perfect, it's meant to be informative. The circumstances of our lives are exactly what we need for our particular path of personal growth. The things you are most worried about will continue manifesting in your life—until you can truly let them go. Also discussed are how irritating people can be dealt with as a reflection of yourself and the issue of doing what you love vs. doing what pays.
Go to page | Download/Listen 55:04

MORE

Get more audio clips on aliens, transformation, and consciousness in Grinning Planet's biweekly downloadable audio news feed.
AMAZON PURCHASES FROM HERE HELP SUPPORT THIS FREE SITE. THANKS!
Hey, we don't pick
the Google ads! – GP
CLICKS ON OUR ADS AND PURCHASES VIA OUR AMAZON LINKS HELP SUPPORT THIS FREE SITE... THANKS!
A funny, clever spoof on the possibility that we humans are neither descended from monkeys nor from Adam and Eve; rather, we were cooked up in an alien genetics lab long ago (a theory that has been seriously proposed by a number of people!)... Watch funny aliens video.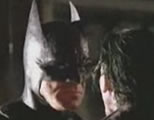 This 6-minute video starts as a typical head-to-head between Batman and The Joker, but the action soon veers into alien territory as some uninvited guests show up. This is surprisingly good! Watch cool batman video.
Or see more ...
Funny Animations/Videos