Gang Cartoon
Have a bang with this funny gang cartoon - a valley girl/Malibu joke about initiation rites.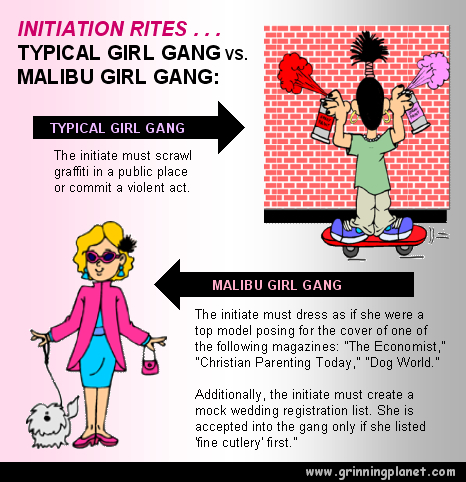 Bella Stabenau
newest member of the Malibu girl-gang "The Mallers"

"Omigod, the initiation ritual was, like, the worst! First we had to hang out at the mall for an entire day without talking, chewing gum, or spending. Then we had to run The Perfume Gauntlet."

---
If there were gang initiation rites for cotton plants, they would include things like "toxic gene insertion" and "liberal dosings of pesticides." It doesn't matter which colors you're wearing when it comes to cotton—choosing organic cotton is the only way to escape the problems caused by conventional cotton.
Benefits of Organic Cotton
Or see more funny cartoons or a gang of songs
ADVERTISEMENT
Joe Walsh/James Gang Song Review

Before Joe Walsh had his successful solo career and then later joined the Eagles, he drove the rock 'n' roll bus called The James Gang. A towering success in its own right—both during the Walsh years and, to a lesser extent, after—The James Gang's had dozens of songs that fall into the "well worth having" category. Here, we present what we consider to be the top dozen—The James Gang's best songs.

Click on a song to go to the MP3 page on Amazon.com, or...
Click the big arrow on the widget box to hear clips from right here.

Click links for Amazon album pages

Get their first three albums—all classics featuring Joe Walsh...

Or just get a single Greatest Hits album ...

AMAZON PURCHASES FROM HERE HELP SUPPORT THIS FREE SITE. THANKS!

Search Amazon.com for more...
FREE AUDIO CLIPS