FUNNY ANIMATIONS


ABOUT SCIENTIFIC INTEGRITY
TOAST THE EARTH — A well done Flash animation bashing the policies of Exxon-Mobil (among others). Very entertaining! From the Expose Exxon Campaign via YouTube. Go there
THE CLIMATE MASH
A funny Flash animated environmental cartoon about Bush-era policies on climate change, à la the old hit "Monster Mash." From Clear the Air via YouTube. Go there
FUNNY VIDEOS


ABOUT SCIENTIFIC INTEGRITY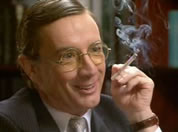 THE RETURN OF THURM THE WORM — Martin Short reprises his classic SNL tobacco-lobbyist character, Nathan Thurm, this time as an oil company lawyer arguing the finer points of global warming with Robert F. Kennedy Jr. From "Earth To America!" via YouTube... Go there

Related GP articles:
-- Global Warming Facts
-- Global Warming Solutions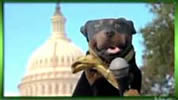 DOG BITES ELEPHANTS!
A funny hand puppet takes on four global warming skeptics. From Triumph The Comic Dog and Earth to America, via MySpace. Go there
WE ALSO HAVE GENERIC
FUNNY CARTOONS
SERIOUS MULTIMEDIA


ON SCIENTIFIC INTEGRITY
THE NEW N.I.H. —
"

N

OT

I

NTERESTED IN

H

EALTH"
MERCURY, VACCINES, AND AUTISM

— A very good (if slightly technical) interview with Dr. Boyd Haley, a medicinal chemistry expert. He discusses autism and other health implications of vaccines containing mercury-based thimerosal, as well as the shockingly irresponsible positions of the National Institutes of Health and other parts of the medical establishment. From AutismMedia.org via YouTube

Related GP article:
Cap & Trade Mercury?

GMOs – HEART OF DARKNESS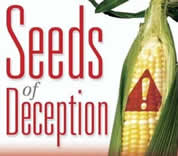 SEEDS OF DECEPTION
If you think that genetically engineered crops are necessary to defeat world hunger—let alone safe for humans to eat—please listen to this Steppin' Out Of Babylon interview with Jeffrey M. Smith. It's a real mouth-opener! Get MP3 download at Steppin' Out of Babylon.
MONSANTO OR MON

SATAN

O?
The documentary Bad Seed—The Truth About Our Food explains the dangers of genetically modified food and the dirty tactics used by GMO corporations and their government henchmen to keep their products on the shelves (and out of the news). If you weren't convinced GM crops were bad before, you will be after this. Watch video on genetically modified food.

(1 hour)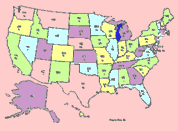 U.S. PHARMA CROP MAP
No, not that kind of drug. But agribusiness and drug manufacturers are very interested in using your favorite food crops, including corn, to grow pharmaceuticals and chemicals. You can see if any of this insanity is going on near you by checking out the Union of Concerned Scientists' US Pharma Crop Map. Sorry, no longer available.

Related GP article:
-- Biopharming

"President Bush has a plan [to fight global warming]. He says that if we need to, we can lower the temperature dramatically just by switching from Fahrenheit to Celsius."
– Jimmy Kimmel
"The Union of Concerned Scientists says the Bush administration manipulates and suppresses science. The administration points out that the Union of Bought and Paid for Scientists disagrees."
– Fark.com
"Should we force science down the throats of those that have no taste for it? Is it our duty to drag them kicking and screaming into the twenty-first century? I am afraid that it is."
– George Porter,
British chemist