GMO VIDEOS
FUNNY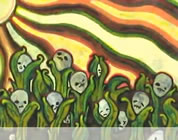 OLD MAN SANTO HAD A FARM


This funny video about Monsanto, the worst actor in the evilopoly of giant GMO purveyors, serenades us about the problems with genetically modified crops, especially corn and soy. Watch funny Monsanto video.

(1:46)




HETEROGENIC – SUPER CORN

— In this highly polished animation, genetic engineering and radiation turn an ordinary kernel of corn into something more—much more. You may also perceive the unspoken message about how easily genetically modified organisms (GMOs) can escape confinement via accidental means. From Art5, via YouTube. Go there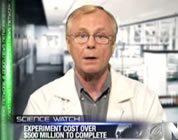 GENETIC SCIENTISTS DEVELOP SHEEP WITH BRAIN OF A GOAT


We won't give away the gag in this video short, but suffice it to say that it's true that the benefit to society of genetic engineering — especially in food animals and plants — is marginal at best, very baaaaad at worst. Eye-watering stuff from The Onion. Watch funny genetic engineering video.


DISNEY'S GENETICALLY ENGINEERED CHILD STARS


A subtle but humorous video satire about how Disney is so successful at developing new talent. Watch disney satire.

GMO VIDEOS
SERIOUS
MONSANTO OR MON

SATAN

O?
The documentary Bad Seed—The Truth About Our Food explains the dangers of genetically modified food and the dirty tactics used by GMO corporations and their government henchmen to keep their products on the shelves (and out of the news). If you weren't convinced GM crops were bad before, you will be after this. Watch video on genetically modified food.

(1 hour)





Living On Earth

GMO Study Retracted—Censorship or Caution? — 06 Dec 2013 — A French study in 2012 led by Gilles-Eric Seralini found animals fed Monsanto's Roundup Ready corn had increased mortality and more tumors than a control group. Amid heavy industry criticism from industry, the journal that published the research has retracted the study from its archives. Michael Hansen, a senior scientist at Consumer's Union, explains why he thinks the retraction was unwarranted and amounts to scientific censorship.
Go to page | Download/Listen 7:16

One Radio Network

GMOs and Glyphosate—Slow Poison Over Time — 19 Sep 2013 — Scientist Stephanie Seneff discusses the biochemistry of glyphosate and explains why it is so damaging to human health. The GMO content of foods is bad enough, but glyphosate—the herbicide that goes hand-in-hand with most GMO crops—adds another level of contamination, one that messes with the body's sulfate usage and liver function, among other things.
Go to page | Download/Listen 1:07:05

TUC Radio

Vandana Shiva on Genetically Engineered Food and the Militarization of Agriculture — 01 Oct 2013 — Vandana Shiva has spent decades challenging GMO corporations and scientists, dedicating her life to the protection of "seed sovereignty" and the practice of non-chemical, non-GMO agriculture. Here she discusses efforts to promote biodiversity conservation by supporting local farmers and rescuing, conserving, and distributing plants that are being pushed to extinction by industrial agriculture.
Part 1: Go to page | Download/Listen 29:00
Part 2: Go to page | Download/Listen 29:00

MORE

Get more audio clips on GMOs and genetic engineering in Grinning Planet's biweekly downloadable audio news feed.