MOST RECENT AUDIO view by topic
SCHEDULE NOTE
Taking care of business elsewhere for a while. Next update ~23 Sep. ....... And now, back to the boilerplate: For the remainder of the vacation, gardening, and harvesting season, I will be publishing GP audio on a more sporadic basis. New audio content will always be published on this page, but an easy way to automatically know new content is available is to monitor the GP podcast with a free RSS reader like FeedDemon. If you crave more audio content than I am currently providing, you can check out my favorite sources directly on the GP audio and video programs page. Thank you for your interest and support!
-- Mark
CATEGORY: ENVIRONMENT (CLIMATE) — 11.SEP.2014

Radio EcoShock
The High Arctic and High Anxiety — Alex Smith provides a review of some of the disturbing climate news in the high Arctic—trends that predict a hotter and less stable climate for all of us. Climate scientist Paul Beckwith, who is just back from the glaciers of Alaska, explains. ~~ Psychologist Susie Burke talks about mental preparation for disasters and ways to cope with eco-anxiety.
Go to page | Download/listen 1:00:00
GP comment: As the Arctic goes, so goes North America's temperate climate.
Original Show Pub Date: 02.Sep.2014, Original story title: The High Arctic and Eco-Anxiety
CATEGORY: COLLAPSE — 11.SEP.2014

Agroinnovations Podcast
Living Life as Collapse Proceeds — Host Frank Aragona and KMO of the C-Realm Podcast discuss a variety of issues, including.... collapse and one's personal posture towards it; the politics of poverty; the dominance of profit over service in corporate culture; permaculture as an outlet that deflates pushback.
Go to page | Download/listen 50:02
GP comment: At one point KMO despairs that there is very little we can do that truly has an impact on fixing the massive problems of modern civilization. Gandhi agreed, but reminded us that it is very important that we do what we can, regardless.
Original Show Pub Date: 02.Sep.2014, Original story title: The Peter Principle
CATEGORY: MUSIC — 11.SEP.2014

Vinyl Experience
Finest Work Songs — This is a solid set of songs about working. Top tracks are.... REM - "Finest Worksong" // Animals - "We Gotta Get Out Of This Place" // Bruce Springsteen - "Out In The Street" // Eddie Cochran - "Summertime Blues" // Tennessee Ernie Ford - "Sixteen Tons" // Thom Chacon - "American Dream" // Pet Shop Boys - "Opportunities" // Kinks - "Dead End Street" // Arcade Fire - "The Suburbs" // Bob Dylan - "Maggie's Farm" // Lucero - "Women And Work"
Go to page | Download/listen 56:42
GP comment: Notably missing: Huey Lewis, "Workin' for a Living" and Rush, "Working Man"
Original Show Pub Date: 29.Aug.2014
CATEGORY: EMPIRE — 09.SEP.2014

Democracy Now
US Militarism—Bring da Chaos, Bring da Noise —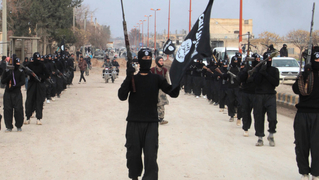 As President Obama plans a sustained offensive against the Islamic State in Iraq, policy analyst Rami Khouri explains why the plan is counterproductive: "Combining American militarism with Arab dictatorships is probably the stupidest recipe that anybody could possibly come up with to try to fight jihadi movements like al-Qaeda and the Islamic State and others. It was that combination of Arab autocracy and American militarism that actually nurtured and let these movements expand."
Watch | Download/listen 17:02
GP comment: Khouri's reasoning is sound. But this is an inside-the-envelope analysis that does not address the possibility that ISIS has been fomented by the US to create a pretext for reestablishing major operations in Iraq. You may remember me predicting a few years ago that we will never leave Iraq—at least not as long as 20% of the world's petroleum reserves remain under its sands. And now Uncle can point to a big ol' reason for being there.
Original Show Pub Date: 08.Sep.2014
CATEGORY: FINANCIAL, COLLAPSE — 09.SEP.2014

KunstlerCast
Survive the Coming Economic Collapse — JHK and Piero SanGiorgio, author of Survive the Coming Economic Collapse, discuss how factors like financial chicanery, peak oil, and discontented populations will lead us into an era of economic collapse. Solutions for protecting oneself are explored.
Go to page | Download/listen 45:45
GP comment: Not bad, but he's not Chris Martenson.
Original Show Pub Date: 03.Sep.2014
CATEGORY: EMPIRE — 08.SEP.2014

Progressive Commentary Hour
How the Rest of the World Views the US Empire — Americans tend to have a pretty rosy assessment of their country's role in the world, even if they think that internally the country is all screwed up. But Americans' grudging admiration of their country as a benevolent global cop is fallacious. People in other countries have a much darker assessment of the United States and its global agenda. Three guests comment on this issue: Garry Leech of the Center for International Studies; Roman Baudzus, an economist and financial analyst; and Andre Vltchek, a journalist, novelist, filmmaker, and philosopher.
Go to page | Download/listen 57:20
GP comment: Three very coherent commentaries on the US as empire.
Original Show Pub Date: 02.Sep.2014
CATEGORY: HEALTH — 08.SEP.2014

Awakening to Conscious Co-Creation
The Chi of Change — Is there a way out of anxiety, depression, overeating, fear, phobias, addiction, insomnia, trauma, and low self-esteem—without taking pills? Peter Field will explain how your subconscious mind has been programmed to make you feel the way you feel; how these programs can be rapidly changed through the right kind of hypnotherapy; how your most difficult feelings and emotions can help you change your life for the better.; and how you can live a balanced, meaningful life and move forward in confidence and harmony with yourself and your world.
Go to page | Download/listen 56:12
GP comment: Pretty much a straight-up discussion of hypno-psychotherapy. The cases discussed are interesting enough, but I was hoping for more insights into WHY hypnotherapy works.
Original Show Pub Date: 18.Jun.2014
CATEGORY: MEDIA — 06.SEP.2014

On The Media
Marking of Paid Content Weakens Further —
Native advertising, or ads that resemble editorial and news content, is now embraced by the vast majority of online publications. Originally, such content was clearly marked as advertising or as having been provided by a sponsor. But the commitment to marking appears to be fading fast. Bob talks with David J. Franklyn about the ethical implications.
Go to page | Download/listen 8:12
GP comment: The "news" these days is largely just talking heads repeating unvetted, unchallenged corp-gov press releases. Paid content is actually less of a problem than that—though it is a problem.
Original Show Pub Date: 05.Sep.2014, Original story Title: Even Blurrier Lines
CATEGORY: EMPIRE — 06.SEP.2014

Corbett Report
The MH17 Crash—Machinations of Empire? — When Malaysia Airlines Flight 17 went down on July 17, 2014, we were immediately inundated with propagandistic reports that tried to convince us that the shootdown could be traced back to the Kremlin. But what was this rush to judgment based on? What have we learned about the crash since then? Why has MH17 completely disappeared from the news cycle? Who really stood to benefit from the disaster? There are many reports that are inconsistent with the official (Western) version of the event, but which of those can be discarded as baseless?
Watch | Download/listen 1:07:22
GP comment: A good analysis, though in the end we are left with more questions than answers. But consider the event as a stratagem: The US creates an event and then blames an adversary for it as part of a prelude to conflict. Hmmm.... We have seen that story in US history many times.
Original Show Pub Date: 27.Aug.2014
CATEGORY: INTERNET — 06.SEP.2014

On The Media
The Internet Slowdown —
Parker Higgins of the Electronic Freedom Foundation talks about the status of efforts to keep everyone's internet speed the same, the potential for telecomm reclassification as a tool in FCC policy, and a new online initiative.
Go to page | Download/listen 5:19
GP comment: We should preserve net neutrality as long as possible. But given that freedom of the press itself has already largely been lost to corp-gov interests, I suspect that net neutrality will eventually fall and the multi-lane toll system will happen. Moneyed interests are VERY persistent.
Original Show Pub Date: 05.Sep.2014
CATEGORY: ENVIRONMENT (PESTICIDES), HEALTH — 06.SEP.2014

Making Contact
Pesticides—Homes, Farms, and Kids — The pesticide chlorpyrifos was deemed toxic enough that it has been banned for household use. But the pesticide is still allowed for farm use, so what about the continued effects on the health of farmworkers and their children? What about pesticide drift into unintended areas? What about other pesticides—are we protecting children in general from their development-disruption effects?
Go to page | Download/listen 28:58
GP comment: Most insecticides act through some sort of nerve disruption but also may act as endocrine disruptors. Why aren't parents more concerned about what they spray around their houses and lawns, or what others spray on nearby farms or road berms?
Original Show Pub Date: 27.Aug.2014
CATEGORY: EMPIRE, FINANCIAL, COLLAPSE — 05.SEP.2014

ExtraEnvironmentalist
Falling Empires —
John Michael Greer offers a superb summary of the US as an empire, covering important topics such as .... the US as the first empire that does not call itself one; empire as a means of extracting wealth from outside the empire and transferring it inside the empire; the role of energy in the development of the US empire; the doubletalk of empire; how empires transition to oligarchies and ultimately end; why a new constitutional convention as a path to reclaiming democracy might backfire. ~~ Then Chris Martenson talks about the financial system as the most likely sector to have an empire-threatening catastrophe.
Go to page | Download/listen 2:06:35
GP comment: I have a few minor differences with both Greer and Martenson, but overall, they present a clear and coherent picture of empire and inevitable collapse. Greer may turn out to be right that no one is in charge of the crazy train, but I doubt it. There's too much at stake for those who covet money and power, and the rest of us are mostly just trying to survive our little lives.
Original Show Pub Date: 02.Sep.2014
CATEGORY: ENERGY, ENVIRONMENT (POLLUTION) — 03.SEP.2014

Sea Change Radio
Keeping An Eye On The Natural Gas Boom —
Even the most casual followers of energy policy have become aware of the controversy surrounding the massive expansion of fracking in this country over the past decade. Successful attempts to lift the curtain on fracking, like Josh Fox's 2010 documentary film Gasland, have spurred a grassroots movement to push back against an industry that would have us believe that fracking is clean and safe as well as the solution to US energy woes. Journalist Neela Banerjee discusses the battle for America's health and well-being that is being fought on the parallel fronts of policy and PR.
Go to page | Download/listen 30:00
GP comment: There is some good info here but also some delusion. The natural gas boom is neither a substantial contributor to US economic well being or a meaningful path to reducing greenhouse gas emissions. Wind, solar, and plug-in electric vehicles, as good as they are, cannot supplant fossil fuels without significant lifestyle change.
Original Show Pub Date: 18.Aug.2014
CATEGORY: EMPIRE — 03.SEP.2014

9-11 Wake-Up Call
Israel and 9/11 — Professor Kevin Barrett discusses Saudi and Israeli involvement in 9/11. Topics include: the evidence of Israeli complicity in 9/11; distinguishing between Jews and Zionists; how the US used 9/11 to keep Saudi Arabia in the fold; why the Islamic State is neither Islamic nor a state; 9/11 complicity of elements within the US government.
Go to page A | Download/listen A 29:11
Go to page B | Download/listen B 29:48
GP comment: He's a little to cavalier in accepting certain suppositions as fact, but he's mostly on-target and worth hearing.
Original Show Pub Date: 23.Aug.2014
CATEGORY: AGRICULTURE — 03.SEP.2014

Agroinnovations Podcast
Small-Scale Sustainable Agriculture—$90K per Acre, or Heartache By the Numbers? —
Dr. Joe Kovach of Ohio State University describes a small-scale mixed fruit-vegetable polyculture designed to produce steady, high-yields with a good economic return on investment. Labor inputs, pest pressures, weed control, crop selection, retail sales, and marketing are all discussed in some detail. ~~ In part 2, Frank Aragona shares several articles that depict small-scale sustainable agriculture as a financial struggle, even for those with abundant capital and land resources. With story after story of small-scale sustainable producers struggling to make ends meet, he explores whether the permaculture movement is a failure on socio-economic grounds. Some suggestions for moving forward are offered.
Go to page A | Download/listen A 42:20
Go to page B | Download/listen B 34:43
GP comment: Both clips are very insightful for anyone who is contemplating small-scale organic growing—or is already trying to make it work.
Original Show Pub Date: 18.Aug.2014
CATEGORY: EMPIRE — 02.SEP.2014

Unwelcome Guests
Fear and Torture in the Post-9/11 United States — Rebecca Gordon is an activist and lecturer at the University of San Francisco. She suggests that US citizens have become habituated to living in fear, a situation promoted through media reports of terrorists and the post 9/11 "security theater." Torture, she says, is not primarily about obtaining information to protect civilians, but rather is a weapon of control to promote fear and to stifle political opposition. She describes how, post-9/11, the public consensus that torture was unconditionally wrong was quickly dismantled.
Go to page | Download/listen 1:00:00
GP comment: It is the duty of every American citizen to wrap their head around the torture discussion in the first 30 minutes of the clip. The rest of the clip (featuring Bill Durodie) is skippable.
Original Show Pub Date: 23.Aug.2014
CATEGORY: AGRICULTURE — 02.SEP.2014

Food Sleuth Radio
Children in the Fields — Norma Flores Lopez, director of the Children in the Fields Campaign, describes child labor in agriculture, including her own personal experience at age 12.
Go to page | Download/listen 28:15
GP comment: Child labor in the US farm industry is another subsidy for cheap food.
Original Show Pub Date: 18.Aug.2014
CATEGORY: EMPIRE — 01.SEP.2014

Washington Journal
Richard Gage of Architects and Engineers for 9/11 Truth on C-SPAN —
Richard Gage, founder of the group Architects and Engineers for 9/11 Truth discusses their evidence that Building 7 was destroyed by controlled demolition on September 11th. The group is calling for an open investigation into the science and facts of 9/11. Topics include: why modern skyscrapers with high-strength steel supports cannot collapse in free fall without controlled demolition; refutation of various claims by NIST in their analysis (cover-up); and evidence for use of the high-tech demolition explosive thermite.
Watch | Download/listen 39:41
GP comment: Excellent that this got on C-SPAN. The 9/11 crime is similar to the JFK murder—if left unsolved, it will be another huge helping of impugnity for the corrupt cabal that runs things, which will ultimately lead to true totalitarianism.
Original Show Pub Date: 01.Aug.2014
CATEGORY: AGRICULTURE, CHEMICALS — 01.SEP.2014

One Radio Network
Together, We Can Protect Our Food, Our Farms, and Our Environment — Colin O'Neil and Larissa Walker of the Center for Food Safety talk about a variety of food and farm issues. Topics include the new 2,4-D-resistant GMO crops; toxic pesticides associated with cancers and birth defects; importance of honey bees to large-scale agriculture; effects of chemicals on honey bees, native bees, and other critical beneficial insects; neonicotinoid pesticides as a particular problem for bees.
Go to page | Download/listen 52:13
GP comment: Nice to hear the "buzz about bees" give native insects equal weight for a change.
Original Show Pub Date: 18.Aug.2014
CATEGORY: ENVIRONMENT (WATER), SPECIES — 28.AUG.2014

Resistance Radio
The Colorado River—Past, Present, and Future — Gary Wockner coordinates the Save the Colorado River Campaign, whose mission is to protect and restore the Colorado River and its tributaries from the source to the sea. Topics include the history of the river; water rights and farms vs. cities; impact of dams and water rights on species; and opportunities for improving the river's future.
Go to page | Download/listen 39:45
GP comment: The chance of a major hydroelectric dam coming down to benefit species is zero (and, from an overall environmental perspective, should be zero). It's good that their "dam talk" acknowledges that reality.
Original Show Pub Date: 24.Aug.2014
CATEGORY: HISTORY — 28.AUG.2014

Dan Carlin's Hardcore History
Blueprint for Armageddon IV — It's 1916, and machine guns, barbed wire, and millions upon millions of artillery shells create titanic meat grinders at the battles of Verdun and the Somme. Dan Carlin recounts the strategies of the generals and the horrors on the battlefields. There's never been a human experience like it, and it changes a generation.
Go to page | Download/listen A 3:55:51
GP comment: The experiences of the soldiers in WWI were truly horrific. The main change in today's warfare is that the horror is much less evenly distributed between the two sides.
Original Show Pub Date: 17.Aug.2014
CATEGORY: NUCLEAR — 27.AUG.2014

Corbett Report
Studies Show That Even Limited Nuclear War Leads to Global Famine —
Steven Starr, the Senior Scientist at Physicians for Social Responsibility, discusses his work on the environmental impact of nuclear warfare, including an examination of his recent article, "The Lethality of Nuclear Weapons." From climate and ozone disruption to famine, electronic failures, and the risk of nuclear reactor meltdowns—science clearly says that nuclear war can have no winner.
Go to page A | Download/listen A 40:18
GP comment: Starr offers a number of impacts that I had not considered before, which only strengthens my belief that there is no such thing as a "survivable nuclear war."
Original Show Pub Date: 09.Aug.2014
CATEGORY: FINANCIAL, EMPIRE — 27.AUG.2014

The Keiser Report
Crime in Modern Times—A Return to Les Miserables — Max Keiser and Stacy Herbert discuss how some looters are more equal than others: A black kid gets taken out for stealing cigarettes while a rich white female shoplifter gets a slap on the wrist. And then there is the uber-criminal, Jamie Dimon, who gets to keep secret his mortgage fraud deal with the Department of Justice, with no admission of guilt and no damage to his reputation. ~~ In the second half, Max interviews journalist Matt Taibbi about the injustice that follows the wealth divide and how Ferguson, Missouri plays into that.
Watch | Download/listen A 25:45
GP comment: Over-the-top snarky, but mostly right.
Original Show Pub Date: 26.Aug.2014
MORE AUDIO
See all most recent audio