MOST RECENT AUDIO view by topic
SCHEDULE NOTE
For the remainder of the vacation, gardening, and harvesting season, I will be publishing GP audio on a more sporadic basis. New audio content will always be published on this page, but an easy way to automatically know new content is available is to monitor the GP podcast with a free RSS reader like FeedDemon. If you crave more audio content than I am currently providing, you can check out my favorite sources directly on the GP audio and video programs page. Thank you for your interest and support!
-- Mark
CATEGORY: EMPIRE — 22.AUG.2014

C-Realm Podcast
Futures Near and Far —
KMO speaks with "military science fiction" novelist Linda Nagata. The themes include eroding civil liberties; cybernetics and nanotechnology; the growing power of defense contractors; and the coercions of empire. As an example of the interstection of fiction and reality, the soldiers in Nagata's novel The Bohr Maker wear powered exoskeletons, which are more advanced versions of systems actually in development by Lockheed Martin.
Go to page | Download/listen 59:55
GP comment: Insect-bots and super-soldiers and Big Brother cops, oh my! Unfortunately, we are already part-way there.
Original Show Pub Date: 20.Aug.2014
CATEGORY: NUCLEAR, HISTORY — 22.AUG.2014

Corbett Report
Confronting the Myths of Hiroshima and Nagasaki —
Gary Kohls, MD discusses his recent article, "The Hiroshima Myth and the Glorification of American Militarism." Topics include the manufacturing of the "necessity" of the bombings of Hiroshima and Nagasaki; the avoidance of firebombing Hiroshima and Nagasaki so they could be preserved as "whole cities" when they were hit with nukes; the real reasons that the nuclear annihilation of these cities took place; why the official narrative was so carefully crafted, and how to push back against it with the facts.
Go to page | Download/listen 42:38
GP comment: Preserving some cities from one type of bombing to keep them as a control case for studying another type of bombing---sceince gone mad.
Original Show Pub Date: 04.Aug.2014
CATEGORY: EMPIRE — 22.AUG.2014

Dan Carlin---Common Sense
Dan Carlin on the Ferguson/Iraq Trendlines — Dan Carlin examines the larger trends indicated by the violence in Ferguson and Iraq. Topics include the 450-fold increase in federal funding for militarization of local police forces over the last two decades; explosions of violence based on long-standing issues, not a single event; slow normalization of public attitudes (acceptance) towards over-policing; the continuing degradation of right to free speech and assembly; ISIS visuals should be horrifying even to Islamists; US intervention almost always causes problems; Ferguson as a template for a larger global cauldron boiling over.
Go to page | Download/listen 58:00
GP comment: Americans are smart enough to know that a US military presence in US cities means bad things. Are they smart enough to see that militarization of local police is little different?
Original Show Pub Date: 20.Aug.2014
CATEGORY: EMPIRE — 21.AUG.2014

Uprising
Iraq—Meet the New Rebel Boss, Same as the Old Rebel Boss —
Freelance foreign correspondent Reese Erlich has traveled widely across the Middle East and has just returned from Iraq. He comments on a number of stories from the area, including the apparent beheading of missing journalist James Foley; the battles for the Mosul Dam and the ISIS-held city of Tikrit in Iraq; what Americans think the US role in the current Iraq mess should be; and the political spin the US puts on their latest rebel allies and enemies, who seem to routinely fall in and out of favor with Uncle.
Go to page | Download/listen 12:56
GP comment: Get this straight—the US will NEVER leave Iraq, regardless of the lies politicians keep offering to the contrary. Well, let me qualify that: The US will never leave Iraq as long as there is oil there.
Original Show Pub Date: 20.Aug.2014
CATEGORY: SPECIES — 21.AUG.2014

Resistance Radio
Sorry, Charlie—Fish Aren't So Dumb After All — Animal behavioralist Culum Brown discusses the fascinating learning and memory aspects of fish ecology. Fish can remember and apply previous experiences to improve their success in areas such as food gathering and interactions with other species.
Go to page | Download/listen 50:00
GP comment: Even in the lowly fish, the moronic phrase "they're just dumb animals" does not apply.
Original Show Pub Date: 10.Aug.2014
CATEGORY: ENERGY — 21.AUG.2014

NPR
Oklahoma Wind Power Companies Run Into Headwinds —
Oklahoma is the nation's fourth-largest generator of wind energy. But wind developers in the northeast corner of the state, where the Tallgrass Prairie Preserve lies, are up against stiff opposition from an unlikely pair of allies: environmentalists and oil interests.
Go to page | Download/listen 3:54
GP comment: Environmentalists need to stop letting the perfect be the enemy of the good.
Original Show Pub Date: 18.Aug.2014
CATEGORY: SPECIES — 21.AUG.2014

NPR
Glass-Free Menagerie New Zoo Concept Gets Rid Of Enclosures — For animal lovers, zoos can be a mixed bag. It's amazing to be in shouting distance of magnificent wild animals, but it's hard not to get the feeling that great apes, big cats, and other creatures don't really love being behind bars, walls, and windows. Now, a Danish architectural firm is working with the Givskud Zoo and safari park in Denmark to eliminate the walls and create what they're calling Zootopia.
Go to page | Download/listen 4:01
GP comment: Or we could stop destroying the animals' natural habitats.
Original Show Pub Date: 09.Aug.2014
CATEGORY: ENERGY, ENVIRONMENT, FINANCIAL — 20.AUG.2014

Post Carbon Institute
Humans—Are We the Borg? ... Or Merely Delusional? —
In an hour and a half, ecological economist Nate Hagens offers up a grand tour of how the human-dominated planet works, or more accurately, mis-works. It all comes down to bad programming—science shows that we humans are predisposed to making bad choices; or at least making choices that bolster short-term, selfish desires at the expense of long-term, altruistic interests. Energy, or an increasing lack thereof relative to our needs, is the hammer that will force us to recognize reality and make increasingly hard choices.
Watch | Download/listen 1:30:00
GP comment: Must listening. And Hagens is kind enough to explain how we "aware humans" can navigate the seemingly impossible mission ahead.
Original Show Pub Date: 29.Jul.2014
CATEGORY: EMPIRE, FINANCIAL — 18.AUG.2014

The Keiser Report
End of the No-Alternative-To-Dollar Era? —
Max Keiser draws a line through numerous data points, including Iraq, IS, American military sales, wars for oil, and free marketeers. The empire is fraying at the edges. ~~ Michael Hudson explains why he thinks the alternatives to the US dollar—like the new BRICs central bank—are quickly undermining the hegemony of the dollar. Other topics include the US financial Ponzi system; Warren Buffett and other corporate raiders taking large publicly held companies back to private ownership; the class war in Europe.
Watch | Download/listen 25:46
GP comment: If the dollar does continue to slip—in real terms, not just in rhetoric—we will be living in very interesting times, and it won't be pretty.
Original Show Pub Date: 16.Aug.2014
CATEGORY: FOOD, ORGANICS — 18.AUG.2014

Diet Science
Meta-Study Says Organic Produce Wins — A new meta-study says organic produce beats conventional produce: more nutrients, less toxic residue. Organic has higher levels of nutrients like flavanones, vitamin C, and beta carotene, as well as lower levels of sludge fertilizer toxins like cadmium. This is contrasted to the Stanford study from two years ago, in which the researchers claimed there was no nutritional benefit from eating organic. The new meta-study is much larger.
Go to page | Download/listen 7:00
GP comment: I wonder who paid for that Stanford study? Or for the new one, for that matter.
Original Show Pub Date: 04.Aug.2014
CATEGORY: EMPIRE — 18.AUG.2014

On The Media
Changing Rules for Cameras in the Interrogation Room —
A new Justice Department policy requires the FBI, the Drug Enforcement Administration, and several other federal law enforcement agencies to videotape interrogations with suspects held in custody. It's a change generally lauded by all sides of the adversarial process. But UCLA law professor Jennifer Mnookin has a couple of concerns.
Go to page | Download/listen 6:48
GP comment: The concern about making sure the camera does not sometimes get turned off is important.
Original Show Pub Date: 15.Aug.2014
CATEGORY: HEALTH — 18.AUG.2014

On The Media
No, Ebola is NOT Coming to the US — The ebola outbreak in West Africa is unprecedented in size and geographic scope. But contrary to what the media suggests, it is definitely not coming to the United States. Dr. Daniel Bausch, an expert on the ebola virus, explains the nature of ebola and what the media keeps missing.
Go to page | Download/listen 5:15
GP comment: Central bankers are the main plague in the US.
Original Show Pub Date: 15.Aug.2014
CATEGORY: ELITES, COLLAPSE — 16.AUG.2014

Against the Grain
Exit Right—Visions of Super-Soveriegn Enclaves — There are various visions for gated communities of elites who want to escape the restrictions and taxation of the nation-state---an existance outside of the sovereign territory of any country. Historian Raymond Craib talks about visions for various libertarian enclaves, from the failed attempt to build the Republic of Minerva on a coral reef in the South Pacific, to the Seasteading Institute's plan to construct a floating city off San Francisco.
Go to page | Download/listen 54:00
GP comment: On a square-footage basis, at-sea is far more difficult and expensive than on-land. Elites are not prone to self-deprivation, and their resources are not unlimited, so it's highly unlikely they'll ever realize their "mobile offshore base."
Original Show Pub Date: 13.Aug.2014 (originally aired 24.Feb.2014)
CATEGORY: EMPIRE, MEDIA — 15.AUG.2014

Democracy Now
US Humanitarianism Only Applies to Oil-Rich Areas —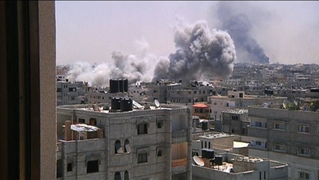 Glenn Greenwald reviews news headlines related to US military action in Iraq over the past two decades, concluding that the premise of humanitarian intervention is an outright sham. Greenwald also provides detail on the far-reaching technical and analytic relationship between the US National Security Agency and its Israeli counterpart regarding mutually agreed upon geographic targets. Then he talks about NPR's recent (horrible/dishonest) reporting on the impact of NSA whistleblower Edward Snowden.
Watch A | Watch B
Download/listen 15:27
GP comment: NPR listeners and Fox News listeners have two things in common: They are convinced they are more informed than anyone else on the planet, and they are both quite wrong.
Original Show Pub Date: 13.Aug.2014
CATEGORY: EMPIRE — 15.AUG.2014

The Shortwave Report
World News Round-Up — Story topics include ... independence actions for the Catalon region of Spain; military and humanitarian actions in Ukraine; US weapons supply and bombing in northern Iraq; Afghanistan civilians left without justice after attacks by the US military; Europe losing patience with Israel; Argentina and hedge fund creditors; radioactive Fukushima water in the Pacific Ocean; Japan and Russia relations strained.
Show notes page | Download/listen 29:00
GP comment: The US-Russia proxy conflict in Ukraine is the most important story on the planet in big-picture terms.
Original Show Pub Date: 15.Aug.2014
CATEGORY: HEALTH, FOOD — 15.AUG.2014

One Radio Network
Lita Lee on Food, Enzymes, Thyroid Function, and Overall Health —
Lita Lee, PhD talks about the importance of proper digestion and assimilation of food, as well as the importance of proper thyroid function, to overall health. Are you eating healthy foods and still not as well as you think you should be? What's wrong with fish oil and most cooking oils? Why can't people be healthy on a vegan diet? Why does everyone need gelatin for joint health? What is the connection between rheumatoid arthritis and thyroid function? Why types of digestive enzymes work best?
Go to page | Download/listen 55:24
GP comment: Interesting material, but Ms. Lee could be a lot clearer in her presentation.
Original Show Pub Date: 17.Jul.2014
CATEGORY: FINANCIAL — 15.AUG.2014

The Real World of Money
Gause on Derivatives Bubbles, Global Currencies, How to Preserve Your Gold, more — Andrew Gause's topics include.... In 2008 it was a liquidity crisis; today it is an insolvency crisis. Problems from 2008 not only have remained uncorrected but have gotten worse. The $50 trillion Deutsch Bank derivative problem is real. Will it lead to a collapse of the derivatives bubble? Gause explains what derivatives are and how they can affect the entire economy. He talks about fear as a method for keeping inflation at bay. Gause explains why people should not bet that Dollar, Inc. is going away anytime soon—it's the top franchise on the planet. Also discussed is how to avoid losing your gold to a government gold grab.
Go to page | Download/listen 1:08:37
GP comment: Even if the dollar were to somehow collapse and be replaced by SDRs or some other global currency, such an event would almost certainly be a planned one, for the benefit of the financial harpies at the top. It is very unlikely to be a random event based in chaos that somehow sets the world on a better path.
Original Show Pub Date: 13. Aug.2014
CATEGORY: COOL AND COSMIC — 14.AUG.2014

The Lifeboat Hour
Sacred Activism—Beyond Hope Lies Love, Not Despair —
Andrew Harvey says religiosity is no guarantee of ethics; spirituality and intent of purpose must combine if we are to solve the decline of everything. TPTB are VERY well organized, so success in activism requires a similar level of networked organizing. He discusses prayer (conscious intention) as an activist tool and as a way of maintaining personal sanity and stability. He explains why we should disdain "hopeium"—the irrational belief that somehow, some way things will just get better—without taking effective action for change. The machine will indeed end in destroying itself and all around it, but that is an opportunity to express compassion, not wallow in despair.
Go to page | Download/listen 56:00
GP comment: Easy solutions will never have any effect and hard solutions are too difficult for 99% of people to bear. You'll feel much better once you accept that it's hopeless.
Original Show Pub Date: 10.Aug.2014
CATEGORY: EMPIRE — 12.AUG.2014

Unwelcome Guests
Social Destabilization Tactics, from WWII to the War on Terror — Douglas Valentine, author of The Phoenix Program, discusses the dark impact of the US Central Intelligence Agency. Topics include ... the integration of the War on Drugs, the War on Terror, and domestic control mechanisms aimed at politicians and the populace; how the police state in the US today was rolled out so rapidly after 9-11; the generation of off-the-books funding to support operations outside normal approval chains; the CIA/military complex as the mechanism by which global power is maintained, using all techniques necessary, no matter how Machiavellian.
Go to page | Download/listen 59:36
GP comment: An excellent if too-brief tour of CIA hegemony in the last 60 years. Interesting how the dark world view of the CIA has even contaminated other agencies like the DEA and NSA.
Original Show Pub Date: 09.Aug.2014
CATEGORY: FINANCIAL — 11.AUG.2014

Corbett Report
Century of Enslavement—The History of The Federal Reserve —
War. Poverty. Revolution. They all hinge on economics. And economics rests on one key concept: money. But what is money? How is it created? Who controls it? It is remarkable that, given its central importance in our lives, not one person in a hundred can answer such basic questions about money. James Corbett's new documentary, Century of Enslavement—The History of The Federal Reserve, endeavors to enlighten the public on the machinations of the banksters over the last few centuries, culminating in 1913 in the creation of their main tool, the Federal Reserve.
Watch | Download/listen 1:29:57
GP comment: Corbett is clear, cogent, and well researched on the topic. His film is not quite as engaging as The Money Masters, though it is more up-to-date.
Original Show Pub Date: 06.Jul.2014
CATEGORY: EMPIRE, FUNNY — 11.AUG.2014

Redacted Tonight
How To Save Earth, The World's Dumbest Teenagers, Minimum Wage, more — Comedian Lee Camp and his team offer a humorous review of global events, especially as they relate to the machinations of empire.
Watch | Download/listen 28:13
GP comment: Lee Camp is somewhat amusing, but his presentation feels more like he's reading a script than doing live comedy. Nonetheless, there are some good insights offered here. There are some sight gags that will be lost in the audio-only approach, but not many.
Original Show Pub Date: 03.Jul.2014
CATEGORY: EMPIRE — 09.AUG.2014

Democracy Now
"President O'Bombing"—US Airstrikes Begin Anew in Iraq —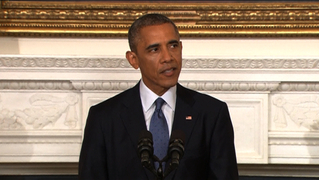 US military aircraft carried out airstrikes in northern Iraq in an attempt to halt sweeping advances by ISIS. Phyllis Bennis, a fellow at the Institute for Policy Studies, discusses the situation.
Watch | Download/listen 19:23
GP comment: Beyond Amy Goodman's priceless "President O'Bombing" slip, this clip is pretty good because the guest puts the latest US insanity in context.
Original Show Pub Date: 08.Aug.2014
CATEGORY: COOL AND COSMIC — 09.AUG.2014

Awakening to Conscious Co-Creation
How Do I Make My Life Matter? — For many people, life—with all its challenges, problems, conflicts and difficulties—seems like a snowball rolling downhill, with gathering momentum in directions that are not of our choosing. Neale Donald Walsch explains how you can use "conversations with God" to improve your level of life control and escape the fears that dominate your perception, to wake up each day feeling utterly connected, fulfilled, and motivated on a spiritual basis. Once you do that, the rest will fall into place naturally.
Go to page | Download/listen 55:51
GP comment: Frankie say RELAX.
Original Show Pub Date: 16.Jul.2014
MORE AUDIO
See all most recent audio