CORPORATIONS - FUNNY QUOTES
There were thousands of applicants for the limited positions on this funny corporate quotes page. We picked the best!
"I don't think meals have any business being deductible. I'm for separation of calories and corporations."
"Nothing is illegal if a hundred businessmen decide to do it, and that's true anywhere in the world."
"The corporations don't have to lobby the government anymore. They are the government."
"The only difference between the Republican and Democratic parties is the velocities with which their knees hit the floor when corporations knock on their door."
"Sharks have been swimming the oceans unchallenged for thousands of years; chances are, the species that roams corporate waters will prove just as hardy."
"The trouble in corporate America is that too many people with too much power live in a box (their home), then travel the same road every day to another box (their office)."
ADVERTISEMENT
corporation, n.
An ingenious device for obtaining individual profit without individual responsibility.
criminal, n.
A person with predatory instincts who has not sufficient capital to form a corporation.
"Punk is not dead. Punk will only die when corporations can exploit and mass produce it."
"[Commercial radio] is owned by one or two corporations now, and they're not in the music business. They're in the advertising business.... So let's not kid ourselves. If you want to hear music, go buy a guitar."
"Corporations cannot commit treason, nor be outlawed, nor excommunicated, for they have no souls."
"Wal-Mart is the sewer pipe through which good jobs are being flushed."
"Capitalism is the astounding belief that the most wickedest of men will do the most wickedest of things for the greatest good of everyone."
"A man generally has two reasons for doing a thing: one that sounds good, and a real one."
FREE AUDIO CLIPS


From The Simpsons
Lisa Simpson: "Romance is dead. It was acquired in a hostile takeover by Hallmark and Disney, homogenized, and sold off piece by piece."
From Fight Club (1999)
Narrator: "When deep space exploration ramps up, it'll be the corporations that name everything: the IBM Stellar Sphere, the Microsoft Galaxy, Planet Starbucks."
From The Tick
Tick [leading-in to commercial break]: "Brace yourself while Corporate America tries to sell us its wretched things."
From The Daily Show
Jon Stewart: "April is tax month. If you are having trouble filing your taxes, then you should hire an accountant. They'll give you the same advice that they've given hundreds of corporations—taxes are for douche bags."
AMAZON PURCHASES FROM HERE HELP SUPPORT THIS FREE SITE. THANKS!
Search Amazon.com for more...
You can get new funny quotes every month
free by email
Know someone who would enjoy
this page of Funny Corporate Quotes?
Send page
SIMILAR CATEGORIES

Funny Quote subject list

Jokes/Cartoons (General)

PASS 'EM ON!

Do you know someone who would like these funny quotes about corporations? Please forward to them.

SEND ME A
FUNNY CORPORATIONS QUOTE

If you know of a funny corporations quote that I missed, please email it to me. Provide the text of the quote and who said it (and, if you have it, a web reference where we can verify the text and the spelling of the person's name, etc.). So... email me a quote. Thanks!

C-Realm Podcast

Free Trade for Whom? — 06 Nov 2013 — KMO speaks with Arthur Stamoulis of the Citizens Trade Campaign about the Trans-Pacific Partnership, which Stamoulis describes as a corporate power-grab disguised as a trade agreement. The Obama administration has kept the specifics of the TPP negotiations a secret from congress and from the public, but 600 corporate "advisors" do have access to and influence over the evolving text of the agreement. Stamoulis says that the biggest secret about the TPP is that mobilizing against it can be successful—citizen coalitions have beaten back these sorts of power grabs in the past, and we can do it again.
Go to page | Download/Listen 59:28

Political Analysis

The Public Cost of Low-Wage Jobs — 05 Nov 2013 — Economist and labor researcher Sylvia Allegretto discusses how corporations are shifting costs to the taxpayer by paying little to their workers but spending lots of time telling them how to get public benefits. Notorious in this regard are the fast food chains, where 50% of full time, non-management workers rely on public assistance. Also discussed is the recent $5 billion cut to the US food stamp program; austerity programs; and the growing income gap.
Download/Listen 51:20

(GP comment: This is a fairly shallow analysis, though there is some good data discussed. Here's a thought: Why don't we pair two actions: eliminate SNAP for all employed workers and double the minimum wage.)

Food Sleuth Radio

Corporations, Global Trade Agreements, and Family Farms — 12 Oct 2013 — John Peck of Family Farm Defenders explains how family farmers are fighting back against the increasing dominance of corporate- and trade-agreement-driven rules. Topics include farmers rights, food security, food sovereignty, free trade vs. fair trade, food labels, food safety, economics, and human rights.
Go to page | Download/Listen 28:15

MORE

Get more audio clips on corporations (and many other subjects) in Grinning Planet's biweekly downloadable audio news feed.
AMAZON PURCHASES FROM HERE HELP SUPPORT THIS FREE SITE. THANKS!
Hey, we don't pick
the Google ads! – GP
CLICKS ON OUR ADS AND PURCHASES VIA OUR AMAZON LINKS HELP SUPPORT THIS FREE SITE... THANKS!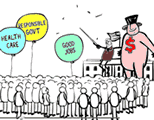 Another brilliant episode in The Story of Stuff series. Using clever graphics, Annie Leonard explains how corporations acquired their current extraordinary powers and rights, and why me must make correcting this our #1 priority if we want to eventually address the other ills of society. Watch funny corporate personhood video.
In one funny video, Mark Fiore anima-shuns the dominant role of money in the American system of governance. In another, he offers an animated musical tribute to the dreams of corporations, all coming true as they transform into real live humans... Watch funny corporate personhood video.
Or see more ...
Funny Animations/Videos
Or see more ...
Progressive Videos/Animations